HEALAM BRIDGE (G-B) : Roman Child's Footprints Found
HEALAM BRIDGE (G-B) : Roman Child's Footprints Found
Roman Child's Footprints Found
Gerard Tubb
Source : http://news.sky.com/skynews/Home/UK-News/2000-Year-Old-Roman-Childs-Footprints-Discovered-By-Archaeologists-In-North-Yorkshire/Article/201102315931164?f=rss
Two thousand-year-old footprints left by a Roman child playing by the side of a road have been found in North Yorkshire.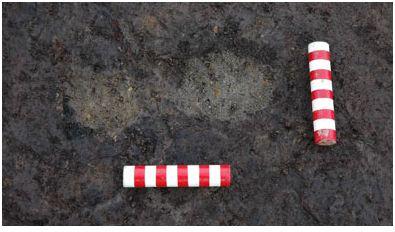 Roman child's footprint. Photo: Northern Archaeological Associates
Archaeologists made the remarkable discovery while excavating a muddy area of a former Roman settlement on the A1 near Leeming.
Helen Maclean of archaeology firm AECOM described the find as very rare.
"I'm not aware of many other footprints being found, everybody was quite amazed by it," she said.
Photographs show a right footprint clearly visible in soft ground followed by two left prints - suggesting that the boy or girl who made them was hopping or skipping.
The perfectly-preserved footprints were uncovered in 2010 during a dig at Healam Bridge, but photographs have only now been released after Sky News heard of their existence.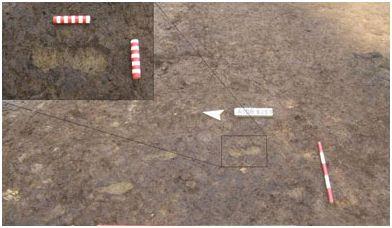 Roman child's footprints uncovered at A1 road widening. Photo: Northern Archaeological Associates
The site was excavated as part of a £318m Highways Agency scheme to upgrade part of the A1 to a three-lane motorway.
The area where the child had been playing was close to a stream where archaeologists believe the Romans struggled to keep their feet dry.
Experts found evidence of repeated attempts to make the area less muddy, with stones and plant material spread on the soft ground.
"It was quite close to where the stream probably ran", said Ms Maclean.
"The child was probably running through the mud, jumping in puddles or possibly just trying to avoid getting its feet wet."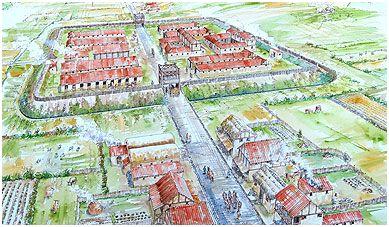 Artist's impression of Healam Bridge Roman fort
The dig was close to an imperial fort which served as a frontier outpost for the famous Ninth Legion which took part in the Roman invasion of Britain in AD43.
The Highways Agency released photographs and drawings of an industrial complex found on the site with a water powered flour mill used to grind grain and produce food for the nearby Roman garrison.
Archaeologists were unable to preserve the footprints and the photographs are the only evidence that remains of the child's brief skip through the Yorkshire mud.