Haryana (Inde) sweet water pools fire up Saraswati revival
Haryana (Inde) sweet water pools fire up Saraswati revival
Sukhbir Siwach / TOI photos by Manoj Dhaka
Source - http://timesofindia.indiatimes.com/india/Haryana-sweet-water-pools-fire-up-Saraswati-revival/articleshow/47218176.cms?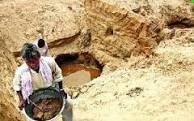 A dozen-odd pools of sweet water emerging on a dry riverbed in a village in Haryana have got India's top scientists excited about the possibility of taking the Saraswati river out of the realm of myth and make it a reality. While ONGC will soon start drilling in six different locations in the state, Archaeological Survey of India (ASI) has collected samples of the water from Mugalwali village. 
Of the six locations ONGC identified, three are in Yamunanagar and one each in Kurukshetra, Kaithal and Fatehabad. This is the first time that they have identified drilling locations in Haryana. They had found a massive water source in Rajasthan's Jaisalmer district in a similar exercise in 2006.
Also, a team of Archaeological Survey of India (ASI) on Thursday collected samples from Mugalwali. "We found pebbles which are generally transported by flowing water of rivers," says superintending archaeologist, ASI's Chandigarh circle, G N Srivastava. "We have also found refined sand from the site which is generally found from the river path," he added.

ONGC deputy general manager Dr N P Singh had recently written to the Yamunanagar deputy commissioner stating, "ONGC has carried out geo-scientific analysis and studied available geospatial data and fresh interpretation of remote sensing satellite data, thus a complied Paleo-channel map for Haryana has been generated," the letter states.
There is already a buzz around the water pools of Mugalwali where the Haryana government started digging on April 21 on a 3 km stretch as part of its Saraswati hunt. The workers found the water after digging just six feet deep. To support their belief in the mythical river, local residents say that there is a continuous stream running underground as they have found water at 200 feet 1 km from Mugalwali. The state government had initiated the digging after getting satellite images of the area from ISRO.

"It's Saraswati's water," asserts Salma, 55, from Mugalwali, who claims to have first seen the water during digging. Co-worker Devi Ram, 62, says, "Around 50 years back, we had seen here a small river. With time, it disappeared and farmers started using the land for cultivation."
Yamunanagar's district development and panchayat officer Gagandeep Singh says government revenue record mention Saraswati's path in various parts of the state. "That's why the farmers easily agreed to vacate their land for digging," he says. The revenue record is being maintained from the time of Raja Todar Mal who had introduced the system during Akbar's rule. Mal is known for overhauling the revenue system of the ever expanding Mughal empire more than four centuries back.

Darshan Lal Jain, head of Saraswati Nadi Shodh Sansthan, an organization set up in 1999 to explore the possibility of reviving Saraswati, believes that the river used to flow around 5,000 years back but disappeared because of earthquakes. "After originating from Himalaya, this majestic river, flowed in a south-westerly direction along Bata valley and entered the plains at Adi Badri, a place in the foothills of Shivalik range, 90 km east of Kurukshetra. It traverse through present day Haryana, Punjab, Rajasthan and Gujarat before joing the Arabian Sea," he says.