Harran (Turquie) : remnants of the world's first Islamic university
Harran (Turquie) : remnants of the world's first Islamic university
The excavations at Harran are revealing the remnants of the world's first Islamic university. Harran, one of the oldest settlements in the world, was once was the capital city of Assyria and Umayyads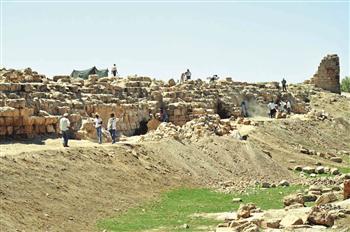 Müslüm Ercan, curator of Şanlıurfa Museum, says the project aims to recover historical remnants. AA photos
The remains of the world's first Islamic university will be restored in Harran, one of the oldest settlements in the world, and once the capital city of the Assyrian and Umayyad empires. 

Müslüm Ercan, curator of Şanlıurfa Museum, told Anatolia news agency that they had initiated a project to revive the historical remnants and conduct excavation works in many areas in Harran. The town of Harran has been a settlement since the 6th Century B.C. 

Of particular interest is a 1 km section of the 4 km long historical ramparts. "With the efforts of Provincial Special Administration and other institutions I hope Harran will return to how it was in the old days," Ercan said, adding that the restoration works were progressing rapidly and 150 square meters of the rampart fields had been cleaned so far. 

"We think that with the preparatory works, the height from the main body to the upmost level of the ramparts will be 12 meters. After the excavation works in 1 km of these ramparts, we will be able to conduct the rest of the restorations with the indications found, and visitors will have a chance to see the magnificence of the remnants of the ramparts belonging to Umayyads." 

Head of the archeology department at Harran University Assistant Professor Mehmet Önal, Harran University instructor İrem Öğütle, archeologist at the Directorate of Museums, Nedim Dervişoğlu, other archeology students and 29 workers are participating in the excavation works, which are being supported by the Culture Minister Ertuğrul Günay.

"We are conducting a rapid and scientific excavation, the restoration work will be let out and visitors will see a magnificent rampart. Culture Minister Günay has made a great contribution to the initiation of the excavations. He cares about Harran. After the excavations, I hope we will also begin with works for Harran Mosque and İç Kale," said Ercan. 

The team is planning to exhibit the artifacts found in the region at the Şanlıurfa Museum of Archeology. 

Hot weather

Ercan said that as the area was located in one of the hottest provinces in Turkey, the weather conditions made it hard to work in the summer season. The works are therefore being conducted early in the morning. 

"It is nearly 45 degrees Celsius in Harran, but people are still working in the excavation fields. It is hard to work under these conditions, but we care about Harran," Ercan said.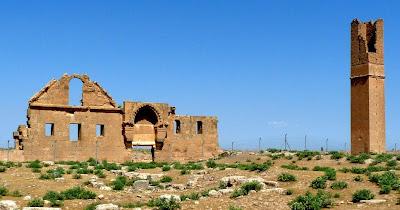 Ruins of the University at Harran. It was one of the main Ayyubid buildings of the city, built in the classical revival style. [Credit: flickr/Grete Howard]