Hanoi (Viet Nam): 1,000-year esplanade revealed
Hanoi (Viet Nam): 1,000-year esplanade revealed
Hanoi (Viet Nam): 1,000-year esplanade revealed under new National Assembly House
Source - http://english.vietnamnet.vn/fms/art-entertainment/115351/1-000-year-esplanade-revealed-under-new-national-assembly-house.html
While building the basement of the new House of the National Assembly in Hanoi in early 2014, experts discovered an esplanade of the Ly Dynasty, which was built in the 11th century.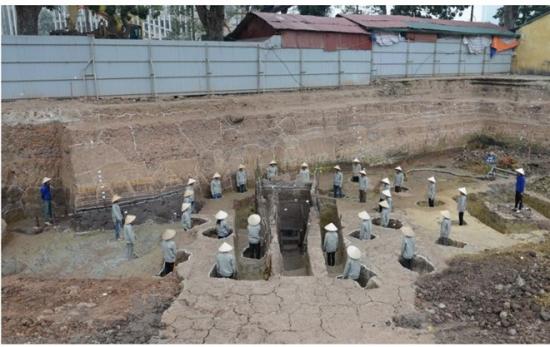 The esplanade. The standing people symbolize the wood columns.
Immediately, the most prestigious archaeologists and historians in the country were invited to come. After conducting research, experts said that this was an extremely important spiritual relic site, part of the ancient Thang Long Citadel.
In early July, the Institute of Archaeology organized an international workshop to assess the value of and propose approaches to conservation of the mysterious relic site, with the participation of leading experts from Vietnam, Japan and China.
At the workshops, participants agreed that this esplanade offered ceremonies to Gods of emperors of the Ly Dynasty. However, the exact name of the site is still open because experts have suggested three options: Minh Duong - the emperor receives the command of God to enact effective nation-building policies; Thien Duong - offers ceremonies to God to pray for peace and prosperity for the country and the people; and Thien Duong – Minh Duong - as this is an uninterrupted architectural complex.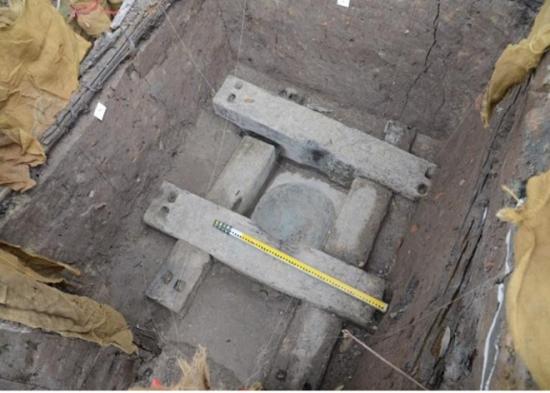 The newly-discovered work has two concentric circles of 9.34m and 14.5m in diameter.
To clarify the value and name of the monument to report to the Prime Minister, on September 12 the Vietnam Academy of Social Sciences held a meeting with leading archaeologists and historians of Vietnam.
Scientists said this is a unique work in Vietnam and the world. It is more special because it is located in the center of the Thang Long Royal Citadel. They agreed that Vietnam should not hurry to name this work. They temporarily called it "The esplanade to offer ceremonies to God of the emperor in the early Ly Dynasty".
According to experts, this work was built from 1010 to 1048 and it was used until the mid-12th century.
The Vietnam Academy of Social Sciences concluded: "This is the earliest spiritual and cultural heritage of Vietnam and a unique spiritual heritage in the capital in the early Ly Dynasty. In the context of that age, this monument shows the spirit of autonomy and self-strengthening of Dai Viet (Vietnam today) in the Ly Dynasty".
The Vietnam Academy of Social Sciences has directed the Institute of Archaeology in collaboration with relevant agencies to assess the value of the monument and make conservation plans.
The Archaeological Institute has conducted emergency protective measures such as sanding ruins, temporary protection, status quo. The entire monument was scanned 3D, and drawing, photographing, measuring and recording were done to build a scientific record.
In early October, just a few days before the new National Assembly House was put into use, Prime Minister Nguyen Tan Dung travelled to the site. The PM expressed his great concern about the site.
Some pictures of the ancient esplanade from Zing.vn: