Haluru (Inde): Rare Roman coins, pottery pieces, stone weights excavated
Haluru (Inde): Rare Roman coins, pottery pieces, stone weights excavated
Source - http://www.deccanherald.com/content/252641/rare-roman-coins-pottery-pieces.html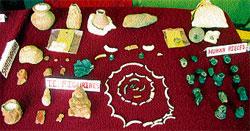 Ancient history and archaeology department, University of Mysore, is conducting scientific archeological excavations at Haluru near Anuvanahalli of Shivani hobli, Tarikere taluk, Chikmagalur district.

It has unearthed prehistoric and early historic evidence with the help of M P Mahadevaiah, G Kariyappa, team of research scholars and MA students from more than two-and-half months.

The Haluri site came to light in 1990-91 when A V Jayanna, a farmer from Anuvanahalli sent some antiquities through Rajappa Dalvayi, former research scholar of University of Mysore. Since then I have conducted regular field survey every year from my own expenditure and started the scientific excavations from March 7, 2012 with trained 60 students and research scholars, said director Anuvanahalli excavations, N S Rangaraju.

After 1909 Chandravalli excavations for the first time at Anuvanahalli four Roman silver coins have been recovered. A few pottery pieces have also been unearthed from this site. Another important discovery at Anuvanahalli is stone weights in different size and shape, he said.

In Chikmagalur district from 1881 to 1896, Robert Bruce Foote had conducted archaelogical explorations at Kadur, Lingdahalli, Nidaghatta, Sakkarepatna and Kaldurga and discovered few paleolithic hand-axes and other artifacts.

This is the first scientific archaelogical excavations conducted in Chikmagalur district and the results are as follows. 

For the first time in the district a cultural sequence has been scientifically excavated. This 35 acres of land has been continuously used for agricultural purpose. So archaelogical evidence has been terribly disturbed. 

Prehistoric antiquities of mesolithic culture in the form of quartz microlithic tools along with core and raw materials of 1200 BC to 800 BC have been recorded.

Neolithic culture

More than 20 polished stone axes made of trap rock, broken pot pieces, ashy gray coloured, black coloured and terra cotta beads have been collected. All these antiquities belong to 800 BC to 400 BC.

Megalithic culture

This is also called iron page. But the antiquities are all broken into pieces except terra cotta beads, black, red pottery pieces. It dates back to 400 BC to 100 AD.

Early historic culture

There was a well established early historic culture such as Shathavahana history in Haluru like Chandravalli and Brahmagiri of Chitradurga district and Maski at Raichur district. The antiquities from this culture dates back to 100 BC to 300 AD. 

More than 30 coins of Shathavahana culture have been excavated and all of them are in good condition with the emblem of swastika, chaitya, elephant, bull and horse type. It can be classified in to early and late Shathavahana period, terracotta figurines, broken pots of Kaovlin painted russet coated pieces, red, black, black and red pot pieces, terracotta beads, semi-precious stones, ivory, bones, ivory bangle pieces have been recovered.