Kathryn Gallerani
Source - http://kingston.wickedlocal.com/article/20140124/NEWS/140127869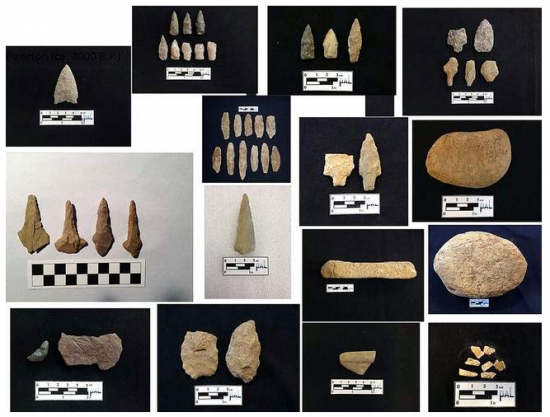 Courtesy/Marilyn Kozodoy
Experts from Public Archaeology Laboratory (PAL), which was commissioned by the town to conduct a professional archaeological investigation, are declaring it to be a very significant and unique Native American site, with evidence dating back at least 8,000 years.
In a report released last week, Dr. Dianna Doucette, the principal archaeologist on this project, says that more has been found than expected, and just 1 percent of the site area has been investigated.
"One of the reasons the Halls Swamp Site is unique and such an exciting discovery is its pristine condition," she reports. "Sites of this age and complexity are rarely found that have not already been disturbed by plowing and other forms of digging, erosion, or development. It is also extremely rare to find significant evidence for house structures in New England dating to what is called the Archaic Period of 3,000 to 10,000 years ago."
PAL (www.palinc.com) uses the pyramids of Egypt as a point of comparison to stress the timeline. The pyramids date back 4,500 years. The Kingston site primarily dates back 3,000 to 8,000 years ago.
The results excite Historical Commission member and Selectman Dennis Randall. He thinks Kingston has a once-in-a-lifetime opportunity to put the town on the map culturally and historically considering the condition and quantity of the artifacts that have been able to be recovered.
"This is a once-in-a-lifetime opportunity," he said. "We'd be fools to not take advantage of it."
Randall said he thinks the Adams Center could be a central location for an exhibit of the most significant artifacts that can be displayed.
The dig was made possible due to Town Meeting approval of Community Preservation Act funding. Randall has begun investigating alternative funding sources for further investigation of the site if additional CPA funding isn't available. That's if the town decides to investigate further.
Archaeologists have found that the Native Americans who camped at Halls Swamp and were ancestors of the Wampanoag carried out a variety of tasks, depending on the season of the year.
"The landform was a perfect spot for taking advantage of the wetland resources from Halls Swamp and accessing the Jones River for trade and travel routes," Doucette says in the report. "Within the site, areas specifically designated for making stone tools, called lithic workshops, were found that contained thousands of pieces of chipping debris or flakes – the leftovers from stone tool making.
"Many fire hearths, pits and burnt rock features were built and used on the site for heat, cooking, and other tasks, such as smoking, drying and roasting meat, fish, and plant foods. The well-drained sandy soil also made the Halls Swamp Site an ideal place to live."
Doucette, Project Archaeologist Erin Flynn and a team of up to 20 people also uncovered hundreds of items that the Native Americans would have used thousands of years ago, including several types of spear points and tools used for scraping, sharpening, cutting, drilling, hammering and grinding.
"The tools are made of all kinds of stone, such as quartz, rhyolite and argillite, that was collected from beach cobbles (rocks) nearby as well as from quarries just outside of where Boston is today. It was not unusual for these Native people to travel 40 miles, likely by canoe, to obtain the right material for making tools."
The team has found evidence of several posts used by the Native Americans to make their wigwams and long houses, which leave behind small stains in the soil that are hard to see and usually have been "erased" by plowing or from biological agents in the ground (such as ants, worms, rodents and even tree roots).
"Although the items found at the Halls Swamp Site are so well preserved, it's not that easy to recognize organic material such as food, clothing, bone, or anything made of wood (such as building posts)," Doucette says in the report. "These things were either burned or disintegrated by being buried in New England's acidic soil. The archaeologists piece together a story by carefully uncovering and mapping all of the features and stone tools, and send samples back to their lab to determine how old things are by radiocarbon dating charcoal. Soil samples are analyzed to provide information about the time of year the site was occupied and the type of plants that were used. Other parts of the story are filled in by members of the Mashpee and Aquinnah Wampanoag tribes, called monitors, who joined the archaeologists at the site to help bring the past a little closer to the present. The Halls Swamp Site is a true treasure in Kingston that should be preserved as part of the town's unique cultural heritage."
By excavating another 1 percent of the site, archaeologists say they could confirm what kinds of structures were made, whether all of the post molds are for house structures or something else and whether the large pit features are burials or ceremonial in nature.
In addition, they say there's the potential to find completely new information, having never thought they would find evidence of house structures.
It's this kind of evidence that excites history enthusiast and Community Preservation Committee member Marilyn Kozodoy, who has documented the dig with her camera. She said it's been remarkable to be witness to the large amount of scientific evidence that has been uncovered so far.