Hallaton (G-B): a 2,000-year-old Corieltauvi tribe mint
Hallaton (G-B): a 2,000-year-old Corieltauvi tribe mint
Peter Warzynski
Source -  http://www.leicestermercury.co.uk/Leicester-dig-unearths-Iron-Age-mint-Roman-tile/story-20931780-detail/story.html#ixzz2yVsjUzHn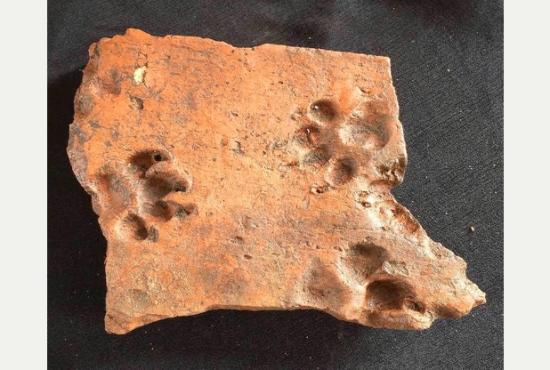 The Roman tile with possible dog paw prints
Archaeologists believe they might have stumbled across an Iron Age mint which produced gold and silver coins for the coveted Hallaton Treasure.
The dig at Blackfriars, in the city, unearthed coin mould fragments which, combined with evidence from previous excavations, seems to confirm the site was a 2,000-year-old Corieltauvi tribe mint.
The Corieltauvi controlled most of the East Midlands, with Leicester as its capital.
Archaeologists believe the Blackfriars site could have produced some of the 5,000 silver and gold coins found in 2000, near the Leicestershire village of Hallaton.
Senior project manager Nick Daffern said: "We've got over 20 coin moulds, which at an urban site like this is quite significant – a lot of them would have been damaged over time.
"This is an exciting find and gives us an idea of where some of the Hallaton Treasure actually comes from."
The team also found a Roman tile in the northern half of the site, with what appear to be dog paw imprints embedded in the ceramic.
Nick said: "When tiles were made in Roman times, they used to get local clay and leave it out in the sun to dry and pets and animals used to escape across them leaving these kinds of imprints – it was quite a common thing to find.
"We've also found some floor or roof tiles with sheep or goat prints here as well."
The tiles were found within a Roman townhouse, which dates from about 100AD.
The dig revealed large outer walls, internal floors and the bases of a colonnade – a line of columns enclosing a courtyard or garden.
Nick said: "There was also painted plaster, which indicates that the site was high status.
"And it looks as if the function of it changed over time, from residential to industrial, before the masonry was taken during medieval times to construct new buildings."
The dig is being carried out by Wardell Armstrong Archaeology on behalf of developers Watkin Jones, who are planning to build student flats on the site.
Work started in January and is expected to end at the beginning of May.
The Hallaton Treasure is the largest hoard of British Iron Age coins discovered in the UK.
It was unearthed by volunteers from the Hallaton Fieldwork Group.
The initial find was made by metal detectorist Ken Wallace on November 19, 2000, when he discovered about 130 coins.
The University of Leicester Archaeological Services (ULAS) excavated the site and found more than 5,000 coins, a silver-gilt Roman parade helmet, jewellery, and other objects, which date from the 1st century AD.
It is believed that 4,835 of the coins discovered in Hallaton were from the Corieltauvi tribe.