Adam Smith / University of Pennsylvania Museum of Archaeology and Anthropology
Statue from a modern monument to Zheng He at the Stadthuys Museum in Malacca Town, Malaysia
From the University of Pennsylvania Museum of Archaeology and Anthropology blog, Dr Adam Smith posts a recent lecture on the voyages of Zheng He, the Chinese admiral who sailed several voyages from China to Southeast Asia, India and East Africa. 
During three decades at the beginning of the 15th century, China dispatched a series of naval expeditions to Southeast Asia, India, the Persian Gulf and East Africa. These expeditions were on a huge scale, involving hundreds of ships and tens of thousands of men, and were intended to assert the prestige and political dominance of the youthful Ming dynasty among its Asian neighbors.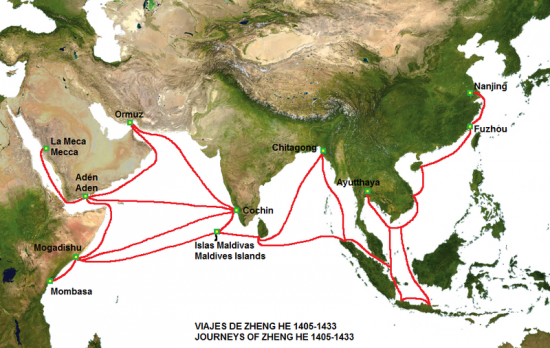 The route of the voyages of Zheng He's fleet.
They were led by a remarkable group of eunuchs – men who had risen to power as castrated palace servants – of whom the best known and most celebrated is Zheng He. Though born into a Muslim family like several of his eunuch colleagues, Zheng He left a number of monumental inscriptions at Buddhist temples, and at shrines to the Chinese seafarers' goddess, expressing thanks for divine assistance in the success of these ventures. The texts of these contemporary inscriptions, together with written accounts from the Ming court, and detailed maps of the routes taken by the Chinese navy, allow us to reconstruct Zheng He's voyages and their impact on world history.
VIDEO : durée 48'36
http://www.penn.museum/blog/research/zheng-he-great-voyages-lecture/#sthash.VZB6soo0.dpuf