Gotland (Suède) : Archaeologists Return to Investigate Viking Period Site
Gotland (Suède) : Archaeologists Return to Investigate Viking Period Site
Archaeologists Return to Investigate Viking Period Site in Gotland
http://popular-archaeology.com/issue/december-2011/article/archaeologists-return-to-investigate-viking-period-site-in-gotland
A team of archaeologists and students will return to excavate Viking period levels at a site in Viking-hoard-rich Gotland.
The world's largest silver hoard was discovered in an agricultural field on an island in Scandinavia. The hoard weighed about 67 kilos, consisting of two assemblages about 3 meters apart. Dated to the 9th century AD, the hoard boasted a pure silver assemblage of more than 14,200 coins and nearly 500 silver arm rings and other objects, placed in wooden boxes beneath the floor of a Viking Age house structure. Related to this discovery was another find of bronze objects, weighing as much as 20 kilos, also placed in a wooden box.
The island, known as Gotland, is a part of Sweden and situated in the middle of the Baltic Sea. It sports a rich heritage when it comes to the Early Middle Ages and the time of the Vikings. In terms of trade, it occupied a uniquely strategic trading position for the flow of goods east and west between Scandinavia and other parts of Europe, enriching its inhabitants with luxury goods that otherwise would have eluded their reach. To the Vikings, it was a place of settlement. No place in Scandinavia can compare to the massive amount of Viking artifacts that have been discovered here over the last 200 years. And no region has yielded as many silver hoards as Gotland. In fact, more then 700 hundred hoards, with more than 150,000 silver coins from countries as far away as the Arabic world, have testified to the significance of this island during the Viking Age.
The evidence of Viking presence has emerged in abundance on the island coast. From 1998 to 2005, archaeologists of Gotland University led by Associate Professor Dan Carlsson have undertaken extensive excavations at the Viking harbor of Fröjel, located on the west coast about 35 km south of Visby. Here, a very large settlement, including evidence of a wooden wall, workshops, and at least two cemeteries dated from around 600 to 1000 AD, where discovered. Near the settlement area, the excavations also uncovered evidence of a late Viking Age Christian churchyard. In total, about 38,000 artifacts were recovered. (See replica of a 11th century female oval brooch found in the excavation site of Fröjel, Gotland, Sweden, right. Courtesy Michael Lindmark, Wikimedia Commons).
Now, Carlsson and his team of archaeologists and students have turned more of their energies to investigating the Gotlandic farmsteads where, according to a Gotland University archaeologist, "the very even distribution of the hoards on the island gives a clear picture of a society where more or less all farms took part in a very lucrative trade". But, he adds, "there is still a very scanty knowledge of how houses and farms in general looked like and were constructed.........In spite of a tremendously rich amount of material from Viking Age on Gotland, the knowledge of the settlement and land use in Viking Age is actually rather limited, mainly because there are normally no traces on the surface of the houses. They were built of wood, and the only thing left are the postholes, and the cultural layers."
A number of farmstead locations in Northern Gotland have already seen some excavation, yielding artifacts and structural data that are beginning to answer questions related to Viking Age settlement and landscape on the island, such as at Klints, where they uncovered a Viking Age workshop, and at Langüme, where another silver hoard was unearthed. But other parts of the Gotlandic landscape will be examined.
"[During the]Summer of 2012, we will excavate the deserted farmstead Fjäle in the eastern part of Gotland", reports the team. "We know that it was abandoned around AD 1350, and we have in earlier excavations been able to show that the site has been continuously occupied from around AD 100 until around AD 1350-60. The main aim of the summer's excavation will be to get a better understanding of the Viking period at the site. In this connection, our main goal is to excavate what is supposed to be a living house, and if the time will be on our side, also a barn."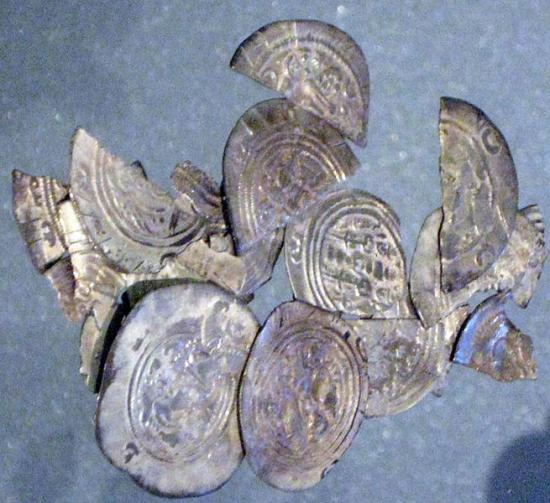 Sassanid coins in the Sundveda hoard, Sigtuna, Sweden. Discovered in 2008. The hoard is from the Viking Age, 9th century, and originate in pre-Islamic Iran. The hoards are not unique to Gotland or Sweden. They have been found in abundance at other locations in Europe. Some examples are below.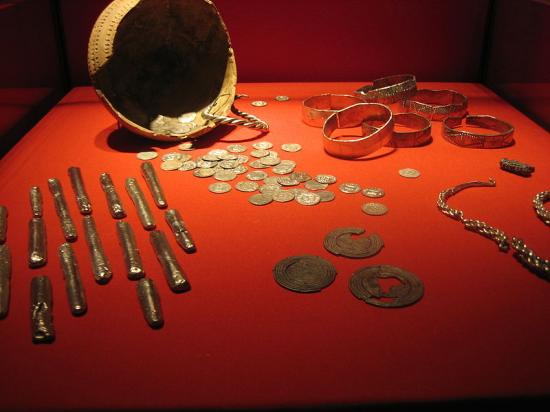 A hoard of Viking treasure now located in the Rijksmuseum van Oudheden (Leiden Museum). Marieke Kuijjer, Wikimedia Commons.
Ballaquayle Hoard, Viking hoard from Ballaquayle, Douglas, Isle of Man, buried circa 970. BabelStone, Wikimedia Commons.
A selection of Viking silver from the Cuerdale hoard in the British Museum. Buried in around 905, found in 1840. The Cuerdale Hoard is a hoard of more than 8,600 items, including silver coins, English and Carolingian jewellery, hacksilver and ingots. It was discovered on 15 May 1840 on the southern bank of a bend of the River Ribble, in an area called Cuerdale in South Ribble near to the city of Preston, Lancashire, England. JMiall, Wikimedia Commons.
Although much work is left to be done and many questions still unanswered about the Fjäle farmstead, some significant conclusions can already be made based on the findings thus far. Carlsson's recent project research report about the site indicates that, despite its apparent relative geographic isolation as compared to other sites, it enjoyed a solid connection with the bustling world outside. Notes Carlsson in his conclusions,"......a picture appears of a farm and its inhabitants who despite their isolated location were influenced to a high degree by European trends in the Baltic area and who were actively involved in the currents of the time." Work at the site may thus help shed more light on the connection between harbor sites and farmsteads, and help the investigators obtain a better perspective on the silver hoards spread all over the island.
The findings to this point are not inconsistent with the historic profile of Medieval/Viking Age Gotland, a land that was a crossroads of trade and commerce during "Dark Age" Europe.