Ben Miller
Source - http://www.culture24.org.uk/history-and-heritage/archaeology/art511777-neolithic-discoveries-offer-evidence-of-prehistoric-scotland-first-farming-communities
Archaeologists travel 6,000 years into the past along riverside route of Edinburgh tram track.
Archaeologists have been investigating a ridge at Gogar Mains in Edinburgh © Courtesy GUARD
Archaeologists have produced a picture of prehistoric Scottish communities stretching back to around 4,000 BC, based on the finds made along a £776 million tram route between Edinburgh Airport and the city centre.

Five or six phases of occupation were found along the plain of the River Almond, including pits containing hazelnut shells, blades and evidence of animal occupation.

Councillor Richard Lewis, of Edinburgh City Council, said the "incredibly rich" history of the area made it seem "as though something headline-worthy is uncovered every time a spade is sunk into the soil in Edinburgh."

"Yet again, archaeologists have given us a fascinating insight into past civilisations who once called this place home," he added.

"The reconstruction image in particular gives us an intriguing concept of how different the land around this part of the tram route would have looked as far back as 700 years ago.

"It's also amazing to think that we now have evidence of Edinburgh's first farming communities from the Neolithic era, some 6,000 years in the past."

A full report is expected to be published this year.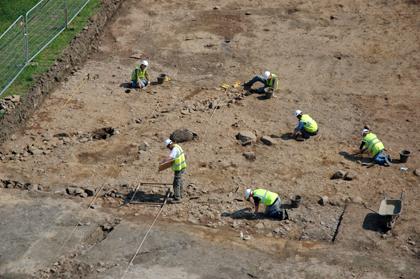 More finds could be made if the area is built upon © Courtesy GUARD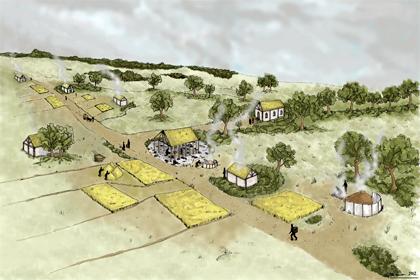 Gillian McSwan's reconstruction of Nether Gogar village during the 12th or 13th century © Courtesy GUARD