Georgia: Ancient-style wine-making is rediscovered
Georgia: Ancient-style wine-making is rediscovered
8,000-year-old secret to great wine held by giant clay pots
Source - http://www.archaeology.wiki/blog/2015/08/04/ancient-style-wine-making-rediscovered-georgia/
http://www.npr.org/sections/thesalt/2015/06/08/412039092/georgias-giant-clay-pots-hold-an-8-000-year-old-secret-to-great-wine?utm_campaign=storyshare&utm_source=facebook.com&utm_medium=social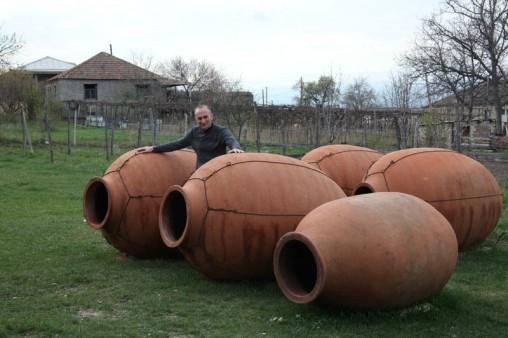 Winemaker Iago Bitarishvili makes wine in clay vessels called qvevri
Ancient-style wine-making is rediscovered in Georgia, as traditional methods come back to life.
"I don't make anything special. Ι only continue in the way started by my parents." . These are the words of Iago Batarshvili , a modern winemaker from Georgia, concerning the use of qvevris, the traditional Georgian clay wine barrels.
Huge and imposing at first sight, a qvevri's history hides an even more important history that is key to world heritage. A cavernous terra-cotta pot shaped like an egg, lined with beeswax and buried to the mouth underground, it is the material evidence of Georgia's 8,000 year old wine-making heritage. The rest it is technique: the pouring of organic white Chinuri grapes, skins and stems into it in October each year, where they ferment with natural yeast for two weeks. The qvevri is then sealed and left buried underground for six months before lids are lifted in April. Finally, the wine is transfered to a smaller set of qvevri for a further half year of aging before bottling. There are no barrels, tanks or gauges — just the grapes and the qvevri. Plus, the fermentation of white grapes with their skins –a practice normally avoided in commercial wine-making- gives the wine an orange tint and a tannin flavor that has been an unexpected hit with customers in Japan, Europe and the U.S. And, with such a success, it is now funny to think that the qvevri wine making had almost gone and was revived after a sequence of historical and socio-political events.
Essentially a home craft till the early 20th century, traditional Georgian wine-making was uprooted — literally — when the Soviets invaded Georgia in 1921. The Bolsheviks ripped up the hundreds of grape varieties grown on Georgia's many family vineyards. The Soviet regime nationalized viniculture and the ancient vessels were sidelined by the industrial wine production dictated by seven decades of Soviet rule. After the fall of the USSR, the Georgian wine industry suffered a fall, especially after 2006, when V. Putin banned exports to Russia. Without the Russian market, the Georgian wine industry tanked — and then reinvented itself for a global clientele through putting into use its traditional secrets. Qvevri was back and went popular time after time. In 2011, the first of two International Qvevri Wine Symposia was organized in the Georgian monastery of Alaverdi a stone compound surrounded by vineyards at the foothills of the Caucasus Mountains, in the Kakheti region. Delegates were delighted to find out that the monastery itself, which has produced wine for 1,000 years, was in the midst of switching back to qvevri.
Nowadays, Russia has ended its ban since 2013 and it is once again Georgia's best customer, buying 60 percent of all wine exports, while ties with far more foreign markets have been secured. And despite qvevri wine still represents a tiny portion of the total Georgian output, the number of qvevri winemakers is growing: Today at least 30 artisanal winemakers use the ancient vessels exclusively, and larger wineries are adding qvevriseries to their lineups.
"To stand out from the crowd, it's good to have the qvevri wine. It's a different thing,", says Irakli Cholobargia, marketing director of the state-run National Wine Agency. Still, the huge demand presents newchallenges for Georgian wine-making: "We'll produce maybe 8,000, maximum 10,000 bottles and that will be all […]. After 10,000 bottles, we would need to use some factory mechanics."
Each wine jug found at the palace in Kabri, Israel, could hold more than 13 gallons, or 75 bottles, of wine. Courtesy of Eric H. Cline/George Washington University