Gan Yavne (Israël): Storm uncovers massive Byzantine pot on beach
Gan Yavne (Israël): Storm uncovers massive Byzantine pot on beach
Archaeologists brave weather to save dolium dating back 1,500 years, estimate more items will be uncovered
Source - http://www.timesofisrael.com/storm-uncovers-massive-byzantine-pot-on-beach/?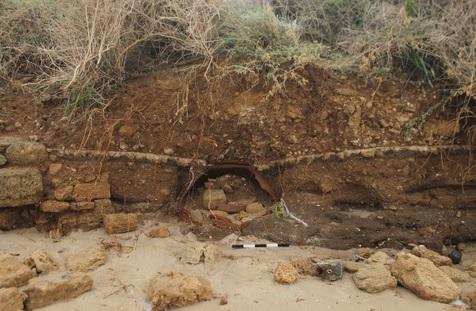 Ancient pot uncovered during Wednesday's storm (photo credit: courtesy Israel Antiquities Authority)
An emergency excavation was underway Thursday to save a giant earthenware pot dating back to Byzantine times uncovered on a beach, after a rainstorm that walloped Israel Wednesday revealed several historic artifacts at a dig site.
The pot was spotted by park rangers in the Gan Yavne archaeological site, located within the Palmahim Beach national park, 15 kilometers south of Tel Aviv, as high winds and crashing waves lashed the site Wednesday, stripping away layers of dirt and uncovering ancient vessels.
The Israel Antiquities Authority excavation continued Thursday morning after diggers were forced to cease activity the day before due to high tides.
Additional pots and various other artifacts were expected to be uncovered during the day.
Antiquities authority officials estimate the 1.5-meters-deep pot, or dolium, dates back to sometime between the 4th and 6th centuries AD, and was likely used as an underground storage space.
"The entire pot was installed beneath an ancient floor, with only the opening exposed above ground," Yitzhak Marmelstein, director of the dig site said in a statement, also estimating many more storage pots will be discovered along the beach.
Typical of beach sites, the pot appears to have been imported from Cyprus or Northern Syria, according to Marmelstein.
Several more items were found within the storage pot, including a small oil flask left entirely intact, cooking pot fragments, and an incense pipe.
The ancient port city of Yavne-Yam dates back 4,000 years, first settled during the Bronze Age and inhabited until the Medieval Ages. Since excavations began in the 1980s, shipwrecks, fishing tools and many other artifacts were found, dating back to various historic periods.
The latest finding indicates the city's port was used continuously from the Late Bronze Age up until the Ottoman period, the statement said.
This is not the first time a storm has aided area archaeologists. In 2010, heavy winds and a downpour uncovered a nearly fully intact roman statue on an Ashkelon seaside cliff, dating from between 1,800 and 2,000 year ago.