Medieval abbot's grave discovered at Furness abbey
Source - http://www.channel4.com/news/medieval-abbots-grave-discovered-at-furness-abbey
The full uninterrupted grave of a Cistercian abbot has been discovered by archaeologists at the ruins of Furness Abbey, one of Britain's most influential medieval monasteries.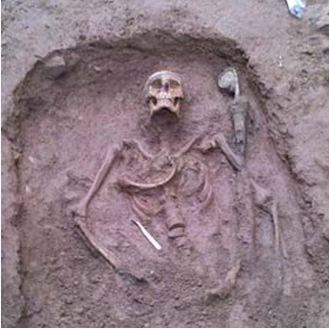 VIDEO = http://www.channel4.com/news/medieval-abbots-grave-discovered-at-furness-abbey
The skeleton was found by Oxford Archaeology North who were carrying out excavations during emergency repairs at the Cumbrian site.
The rare find could date as far back as the 12th century. The abbot's body was buried with a very rare medieval gilded crosier and jewelled ring.
English Heritage curator Susan Harrison told Channel 4 News: "This is really significant because it's the first time under modern conditions that an abbatial or abbot burial has been discovered intact with so much detail and information - from the skeleton to the mark of his office, his crosier, his ring, but also fragments of textile in there."
Oxford Archaeology North's Stephen Rowland told Channel 4 News: "It's extremely rare to find such a burial. Nationally he's an important person; he's a member of the Cistercian order which was the most powerful monastic order in England. He would have had estates across the Furness Peninsula, into Cumbria, Lancashire and Yorkshire, control over large amounts of resources. He was a bit like a feudal overlord."
The archaeologists are now carrying out carbon 14 dating to find out when the abbot actually died. The results of this could give them a 25 year window, which may help to identify which abbot he was. However, the window could be as much as 100 years either side of his actual death.
Furness Abbey

• Founded 1124 by King Stephen of England
• Dissolution in 1538 at hands of King Henry VIII
• Second largest, wealthiest and influential monastery
• Housed Cistercian abbots and monks
• William Wordsworth wrote about the abbey in his prelude of 1805 saying: "I could have made my dwelling-place and lived for ever there."
• Turner and Ruskin both produced several etchings of the abbey
Rare find
Ms Harrison explained how the burial was found: "It was noted that the walls of the east end of the church were cracking and subsiding. A major investigation was set up by English Heritage to work out what was happening with these walls and then to try and reduce any impact on the ground. Archaeological work was undertaken to enable us to find out what was significant in the area that we were going to do further works on to stabilise the abbey ruins."
Mr Rowland explained what they already know about the abbot. He said: "We think he's about 40 to 50-years-old which we can tell from the wear on his teeth, the way the bones are fused together and the sutures on the skull and the aspects on the pelvis. He's about 5'7 tall by measuring his leg bones and he would have been a very important person in the abbey."
He said the abbot probably suffered from arthritis and was most likely a portly man. He said: "He's got a bony growth going down his vertebrae. It's a condition called DISH, which is associated with obesity and middle-aged onset type-2 diabetes. So it's quite probable that he was having a fairly rich diet."
The abbot's knees were also worn. Mr Rowland added: "He could have been praying quite a bit on his knees. We've got arthritis around his platella on his knee cap – again this signifies more bony growth.
"He could have spent a bit of time on his knees writing and reading quite a lot, but he wasn't hugely active like other medieval people of lower status really."
Ms Harrison said the ring was probably a reminder of piety: "It tells us he was a man of status to wear a ring. It was found on one of the fingers of his right hand and what's really interesting is that it's a copper alloy but it's been gilded and it's got a point behind - can you imagine how uncomfortable it would have been to wear that? It's possibly as a reminder of his piety, a reminder of his position and his oaths to god."
The head of the crosier is made of gilded copper and decorated with gilded silver medallions showing the Archangel Michael defeating a dragon. The crosier's crook or end is decorated with a serpent's head.
Ms Harrison added: "This abbot was obviously of high status because he was buried with a very nice crosier, rather than a wooden or a lead replica of that. It's in good condition. The only damage is caused by corrosion in the ground. You can see the silver has been oxidised."
Crosier and ring
English Heritage is putting the abbot's crosier and ring on display for the first time at Furness Abbey over the May Bank Holiday. Curators will explain to the public about the significance of the find and they will be able to see the artefacts in the abbey's museum.
Some Cumbrians want the abbot's skeleton and his belongings to remain at the abbey indefinitely, claiming that it will be good for the national heritage site, the local economy and tourism. They say Furness Abbey is one of the country's forgotten treasures.
Local artist Patrick Corbett told Channel 4 News: "This is a golden opportunity for these artefacts, the skeleton and that, to put this abbey on the map.
"They belong to the abbey and they should come back here and they should form the main focus of the advertisement – to promote the abbey nationally and internationally."
As yet there is no commitment from English Heritage to keep the crosier and ring on display after the bank holiday event. But curator Susan Harrison said it is an idea that could come to fruition.
She said: "At the moment it's all part of a bigger display and finding out more information about Furness Abbey itself. So I would hope, and certainly work towards being able to put these on permanent display. That would be brilliant."