Source - http://www.redorbit.com/news/science/1112977432/ancient-britons-first-to-eat-frog-legs-101713/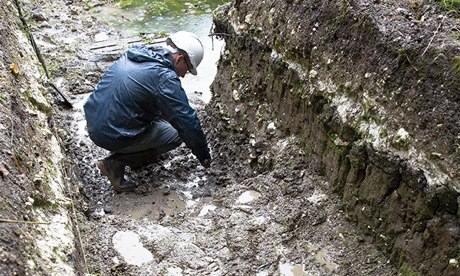 Blick Mead, near Stonehenge, where a charred toad's leg was found. Photograph: University of Buckingham/PA
Frog legs have long been considered a delicacy of French cuisine, but researchers have uncovered new evidence suggesting that they were not the first to actually partake of cuisses de grenouille.
In fact, according to French news agency AFP, archaeologists working at a site in southwestern England, near Stonehenge, uncovered the charred leg bone of a toad among other food remains. The remains were dated back to between 6250 BC and 7596 BC, meaning that Britons could have been eating frogs legs up to 8,000 years ago.
University of Buckingham Senior Research Fellow in Archaeology David Jacques, who leads the team, told Mark Brown of The Guardian that he and his colleagues were "completely taken aback" by the discovery. Testing at the Natural History Museum confirmed that the bones, which were uncovered at a site known as Blick Mead, about 85 miles west of London, did actually belong to a toad, and that they had been "cooked and eaten."
In a statement, the university explained that it was a humerus bone that was found at the dig, alongside small fish remains likely belonging to either salmon or trout, and charred bones belonging to aurochs (the predecessor of the modern-day cow). The finding is "the earliest evidence of a cooked toad or frog leg found in the world," Jacques and his colleagues said, adding that the people living at the site during the Mesolithic period likely dined on "toads' legs, aurochs, wild boar and red deer with hazelnuts… salmon and trout and finishing off with blackberries."
However, as the Associated Press pointed out, the research team's findings have yet to be peer-reviewed. As such, despite expressing their excitement over what Bournemouth University archaeologist Tim Darvill said could be "the most significant find in the Stonehenge landscape" in years, he and others are somewhat skeptical about the find.
The toad humerus isn't the only thing that Jacques and his colleagues have found at the Blick Mead side. Former Amesbury mayor and current Amesbury Museum and Heritage Trust chairman Andy Rhind-Tutt told the AP that the dig had managed to recover thousands of other animal bones, as well as flint tools. Those artifacts, he said, could indicate the presence of what the wire service calls "a major prehistoric settlement just over a mile (about 2 kilometers) from the world-famous circle of standing stones."
"No one would have built Stonehenge without there being something unique and really special about the area. There must have been something significant here beforehand, and Blick Mead, with its constant temperature spring sitting alongside the River Avon, may well be it," Rhind-Tutt added in a separate interview with Brown. "I believe that as we uncover more about the site over the coming days and weeks we will discover it to be the greatest, oldest and most significant Mesolithic home base ever found in Britain."