FALBYGDEN (Suède): New interpretations of the Stone Age landscape
FALBYGDEN (Suède): New interpretations of the Stone Age landscape
New interpretations of the Stone Age landscape in Falbygden
University of Gothenburg
Source : http://www.alphagalileo.org/ViewItem.aspx?ItemId=87764&CultureCode=en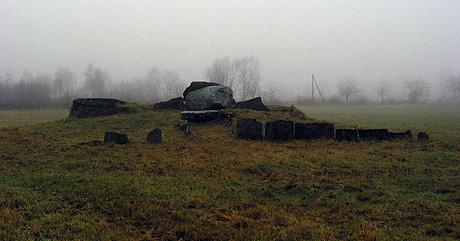 The passage graves of Falbygden do not seem to have been designed to be seen from great distances, new research shows. Photo: Peter Jankavs/Falbygden Museum.
The Falbygden area of central Västergötland in southwestern Sweden is home to one of northern Europe's greatest concentrations of megalithic graves from the New Stone Age (approx. 4000-1500 BC). A new archaeology thesis from the University of Gothenburg now shows that these "passage graves" were not designed to be visible across wide areas – instead they seem to be almost hidden within the landscape.
Tony Axelsson, doctoral student and archaeologist at the Västergötland Museum, has investigated what the Stone Age landscape in Falbygden actually looked like, and how the people of the time related to their surroundings.
Using a geographical information system (GIS) into which he entered relics in the form of passage graves, settlements and stray finds, he has been able to produce digital maps of the prehistoric landscape. His analyses reveal, among other things, that the passage graves do not seem to have been designed to be seen from great distances.
"I don't believe that the passage graves were built to take control of the landscape, to make it less dangerous, or as a conscious effort to tame it, that as soon as a grave was built the landscape seemed safe," says Axelsson.
Another clear pattern he has discovered is how the immediate vicinity of the passage graves is largely empty of traces of human activity in the form of known finds such as amber, flint and animal bones.
"The conclusion is that settlements and passage graves were kept apart from one another – there was some kind of spatial separation."
Axelsson's thesis also discusses archaeological interpretation models. He argues in favour of landscape archaeology moving away from visualised landscapes in favour of living landscapes.
"By hypothetically characterising the landscape and using descriptive verbs and adjectives such as dangerous, boring or beautiful, it is possible to discuss how complex and diverse a landscape is," he explains. "This kind of approach is often lacking in current archaeology. Our perception of a landscape does not come solely from visual impressions, but also through our other senses and, not least, mental imagery."
The thesis has been successfully defended.