Face to face with two doomed Franklin members
Face to face with two doomed Franklin members
Paul Watson
Source - http://www.thestar.com/news/canada/2015/06/04/face-to-face-with-two-doomed-franklin-members.html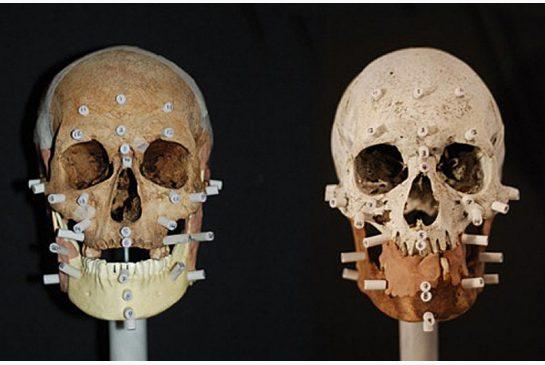 A team led by archeologist Douglas Stenton, Nunavut's heritage director, brought the skulls of two sailors from the lost Franklin Expedition from their High Arctic resting place to Ontario forensic artist Diana Trepkov's studio for facial reconstruction.COURTESY DOUGLAS STENTON
Archeologists trying to solve one of the Canadian Arctic's coldest missing-persons cases have called in a forensic artist skilled at getting justice for the lost and murdered.
A team of archeologists, led by Nunavut's director of heritage and culture, Douglas Stenton, is hoping to solve part of the mystery of Sir John Franklin's lost expedition with the help of forensic artist Diana Trepkov, who reconstructed the faces of two sailors.
Using two skulls discovered in the High Arctic 22 years ago, the Ontario forensic artist produced two busts that look like figures in a wax museum, staring out from the mists of history.
Stenton hopes family members alive today will recognize key traits in the faces and come forward for DNA testing to help in the hunt for a precise identification.
It's the latest lead opened by the discovery last fall of Franklin's flagship, HMS Erebus, in relatively shallow waters of eastern Queen Maud Gulf, roughly 115 kilometres southeast of where the two British sailors' remains were entombed in a stone cairn decades ago.
As archeologists work on land and underwater, trying to piece together scattered clues from a missing-persons' case almost 170 years old, human bones can tell an important part of the story.
"We're not deliberately, every year, trying to go out and find skeletal remains," Stenton said. "But we feel that when we do find them, we should make use of them to the best of our ability because the archeological evidence is so fragmented, coming up on nearly two centuries after the event."
The four-person team on the Erebus Bay identification project includes Robert Park, an archeological anthropologist who teaches at the University of Waterloo, and Anne Keenleyside, a bioarcheologist at Trent University in Peterborough, Ont.
The results of their work appear in the online version of Polar Record, a leading academic journal published by the Scott Polar Research Institute at Cambridge University.
The team worked with two skulls discovered on the south shore of Erebus Bay, on southwest Nunavut's King William Island, in 1993.
Archeologists think they are from the skeletal remains of three bodies first found in 1859 by searcher Francis McClintock, in an expedition bankrolled by Franklin's widow, Lady Jane.
Twenty years later, U.S. Army lieutenant and Arctic explorer Frederick Schwatka rediscovered the bones and buried them.
During the 2013 search expedition for Franklin's ships Erebus and HMS Terror, Stenton and Park removed the remains for analysis from a memorial cairn, dug up a deeply buried cranium and gathered artifacts lying on the surface.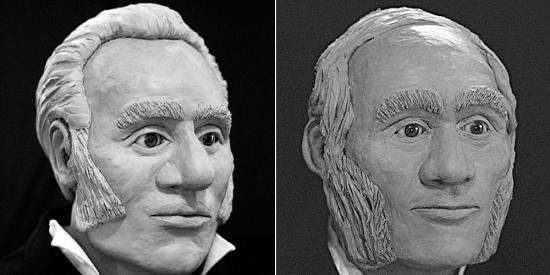 At left, the facial reconstruction by Diana Trepkov bears some resemblance to Royal Navy Lt. Graham Gore, but archeologists have ruled him out. At right, the reconstruction resembles James Reid, ice master on the HMS Erebus. COURTESY DOUGLAS STENTON
Only two of the male skulls were sufficiently intact for forensic work, called craniofacial reconstruction, to create an artist's impression of how the men likely looked. That's where Trepkov stepped in.
She has honed her skills as a forensic artist on dozens of police investigations in Canada, the U.S. and around the world, which she wrote about in a 2011 book, Faceless, Voiceless.
They include high-profile cases such as Nicole Morin, who has been missing since July 30, 1985.
That's the day the 8-year-old girl last said goodbye to her mom, walked into an elevator dressed in a bathing suit and headed down on the way to her Etobicoke apartment building lobby to meet her friend, Jennifer. Nicole never made it and disappeared without a trace.
Trepkov has done two portrait updates to show how Nicole would likely look as she aged, in case she is still alive. A Facebook page keeps the search going for Nicole, who would now be 37.
Trepkov has done similar work on the disappearance of Diane Prevost, who went missing Sept. 17, 1966, from a beach in Grundy Lake Provincial Park. The 2-year-old was camping with her family.
The forensic artist describes herself as spiritual and intuitive. After working on some 190 missing-persons and murder cases since 2005, she is used to making an intimate connection with the lost people she tries to help find.
Working with the two Franklin Expedition sailors' weathered and fractured skulls in her Ontario studio, moulding oil-based clay, sculpting it with dental tools to put artificial flesh and skin to bone, is a much different experience.
"It wasn't chilling," she said. "It was more like, 'Oh, I can't wait to see your faces at the end.' Sometimes I would talk to them. When I work on a case, I usually have a lot of sadness because a person was murdered and they don't know who the person is. They just found their remains.
"But this was actually like company. I would go into the studio and I'm like, 'Ahhh, I'm going to find out who you are and what you look like' as I was slowly building the face."
Facial reconstruction is only an approximate idea of what someone may have looked like in real life, based on a detailed understanding of anatomy. It's part art, part science.
"I would say 75 to 80 per cent science and 20 to 25 per cent artistic ability," Trepkov explained.
Both skulls were missing a lot of teeth, which Trepkov filled in with clay. One of the skulls came with a larger problem: its lower jaw was missing.
The forensic artist rebuilt it using the facial triangle, after carefully studying the cranium. That requires many precise measurements starting from the eyes, with the nose in the middle and the tip at the start of the front teeth.
The nasal spine on each skull guided Trepkov as she judged the likely length of the noses the bones once supported. The big mutton chop sideburns, and other facial hair, were educated guesses based on styles of the mid-19th century Britain.
The forensic art Trepkov created shows two men with distinct features. One has a large nose with a big, bulbous tip, deep-set eyes, arched brows and high cheekbones.
The other has a very narrow nose, with uneven nostrils. The bridge of his nose looks pinched. He has a broad jaw, high cheekbones, and what the teams' research paper calls "a uniquely shaped forehead that was rounded at the sides and had a slanted appearance in the middle."
There are few pictures of Franklin Expedition crew members to check, but 14 of the 24 officers on Erebus and Terror posed for daguerreotype portraits on the eve of the ships' voyage.
The large-nosed man resembles Lt. Graham Gore, but the skull couldn't possibly be his. Gore was dead long before 105 survivors began a long trek south along the western part of King William Island in a failed effort to reach the mainland, the archeologists noted.
The second bust has some similarities with James Reid, ice master on Erebus, but nothing is certain without DNA testing of the Franklin Expedition sailors' descendants.
Two people, from England and Scotland, have already come forward, eager to find out if they're matches. Stenton's team is preparing to shift to DNA analysis to help narrow the search for the sailors' true identities.
When that study is published, Stenton hopes to "generate a lot of interest, potentially, in Great Britain and elsewhere from descendants of members of the expedition and see if they would like to provide us with some modern DNA samples."