PART.2
The men's attire on the other hand typically consisted of a linen tunic, worn underneath another tunic made of wool.
How a young Viking man may have dressed. Back then, the shoes were typically made of leather.
On the bottom half they wore either short or long trousers, or sometimes knee length pantaloons - imagine Disney's Aladdin. A cape or a jacket fixed in place at the shoulder and a hat completed the look.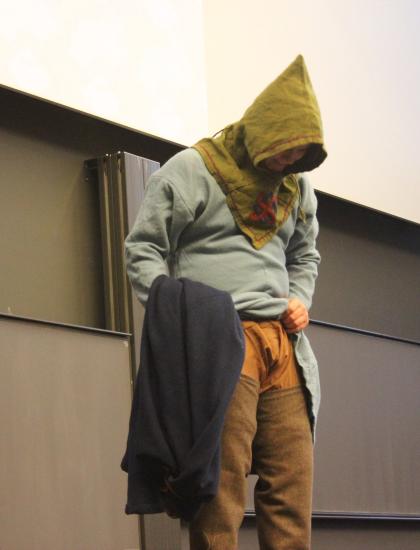 A young 'Viking' proudly displays what lies beneath the light blue robe. Trouser legs are attached to the 'underwear'.
Vikings also loved colours.
"The Vikings wore colourful clothing with patterns and stitched bands. Red and blue were especially popular throughout the Viking Age, "says Mannering.
A Viking catwalk
The catwalks most vibrant piece was this orange tunic, complete with a matching orange hat. According to Ulla Mannering 
In February this year, people gathered for a seminar on Viking clothes at the Saxo Institute at the University of Copenhagen. The last item on the day's agenda was a Viking catwalk show.
"From time to time archaeologists find pieces of old textiles and leather patches from the Viking era. It can give us an idea of the types of fabrics and techniques once used. It doesn't tell us much about what Viking clothes actually looked like, but it's fun to see people who can craft, trying to reproduce the clothing from Viking times," said Mannering.
For her it was mainly just fun to hear the opinions of Viking enthusiasts from around the world display how the Vikings may have dressed.
"At present, these outfits are our best bet. We're never going to be able to reconstruct the Viking clothes to a level that an actual Viking would recognize, but we should not be afraid to be imaginative and give it a go," she says. "We are constantly learning more about Viking clothes and what they would have looked like."
Translated by Catherine Jex