Expedition's Quest for Mayan Gold Finds...a Pot, Stirs Outrage
Expedition's Quest for Mayan Gold Finds...a Pot, Stirs Outrage
Expedition's Quest for Mayan Gold Finds...a Pot, Stirs Outrage
Bryan Llenas
Source - http://latino.foxnews.com/latino/lifestyle/2011/03/30/search-mayan-gold-bild-findsa-pot-stirs-outrage/
A German expedition team assembled to find a lost $290 million Maya treasure allegedly submerged underneath Guatemala's Lake Izabal has returned home empty-handed, but controversy continues to grow over the treasure adventure and its motives.
Joachim Rittstieg, a retired 74-year-old mathematician claiming to have deciphered the famous Dresden Codex, a 400-year-old Mayan book, says he discovered information on page 52 leading to "a giant treasure of eight tons of pure gold" in Lake Izabal.
He left Germany with a group of scientists and journalists in early March on a mission funded and exclusively covered by BILD, a major German newspaper. The group's dispatches were billed "BILD on the scene."
However, the hunt for Mayan gold turned up empty. In fact the only artifact found on the trip was a pot located on the northern shore of Lake Izabal.
But Rittstieg, in an exclusive interview with Fox News Latino, said he considered the trip a success even if the only artifact recovered was a pot he promptly gave to Guatemalan authorities –because it was never about finding gold.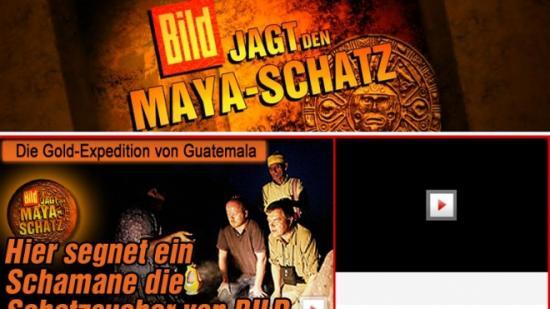 Screen shot of BILD webpage covering the expedition.
"I already know where the gold is," he said. "We have brought worldwide attention to this site and now the Guatemalan government, police, and military will protect this site from looting."
BILD editor Tobias Froehlich acknowledged in an e-mail that the trip turned up empty, but he decried any naysayers.
"We think it was still worth it because we got a lot of pleasure out of meeting the people of Guatemala," he said.
The expedition has come under fire from scientists who say it was a publicity stunt would achieve nothing but to attract looters.
"The sort of nonsense embodied in this endeavor sponsored by BILD … does untold damage to our quest to understand the human past and to convey that knowledge to the public," said Dr. George Stuart, one of the world's foremost scientists in Maya and Mesoamerica studies, wrote in an email to Fox News Latino. "Good archaeology is hard work and it's a shame to see the damage this sort of publicity can do!"
The German expedition was "unscientific" and a "fantasy," according to the director of the National Museum of Archaeology and Ethnology in Guatemala, Juan Carlos Meléndez, who added that the BILD-sponsored adventure was never in contact with the Guatemalan archaeological authorities.
In a public letter signed by over 100 of Germany's foremost archaeologists in Maya and Mesoamerica studies, it called Rittstieg a self-proclaimed Maya scholar whose "statements and methods violate the basic principles of scientific research."
The letter says that the "hieroglyphic texts in the codex contain religious and calendaric information. 'Treasure maps,' as claimed by Rittstieg, are not included in this Maya document - nor in any other."
The scientists' biggest concern is that stories like BILD's will lead to looting. They point to a number of archaeological sites in the Mayan area have been damaged by thieves, causing the destruction of goods of great cultural value.
"The hunt for lost gold will put ancient Maya archaeological remains in danger of being exposed to even more looting. It creates a precedent which may animate internationally operating looters and dealers as well as the local population to search for such treasures," the letter stated.
Rittsteig, meanwhile, blasted the BILD publication for calling the expedition a "Great Mayan Treasure Hunt" when in fact it was never about finding gold.
"We already knew that there was gold there based on the satellite imagery. We only went to gather more information such as depth and temperature of the water so that Guatemala can take over the process from there."
He said he was happy with expedition, despite the criticism.
"We sparked a discussion about the treasure of the Maya, their story, and their natural surroundings and we can live with the criticism because it has lead to a lively debate."
Although the professor claims to have copies of satellite imagery that shows the gold tablets on the floor of Lake Izabal, Rittsteig insists that his only objective is to find conclusive evidence of a lost city that predates the Maya: the city of Atlan.
"I want to go into the dictionary with my name that says I am the founder of the ancient lost city of Atlan," he says. "I am not treasure hunting."
And Rittstieg is not giving up. He's still looking for a sponsor that can fund the next phase of his adventure, to salvage the golden tablets he believes lie buried in the lake.
But he's in no rush to start the next phase of his trip.
"I can assure you, based on my research, the world will not end on December 21, 2012," he said, referring to the date of the supposed Mayan apocalyptic catastrophe.
.