Evidence of how ancient humans crossed Taiwan Strait still scarce
Evidence of how ancient humans crossed Taiwan Strait still scarce
Chen Chih-chung / Elizabeth Hsu
Source - http://focustaiwan.tw/news/aftr/201602120012.aspx?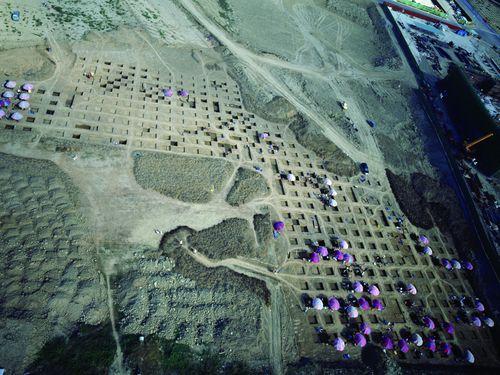 A vast cache of prehistoric artifacts and human remains have been unearthed at an archaeological site in the Tainan Science Park, but none offer concrete evidence explaining an age-old mystery: how ancient settlers from China actually reached Taiwan.

Several million cultural artifacts and faunal and botanic remains have been excavated from over 2,000 burial sites in the science park since the archaeological project kicked off in December 1996, according to Academia Sinica, which is overseeing the work.

The artifacts unearthed have been highly similar to those excavated from archaeological sites along the coasts of southeastern China, said Academia Sinica academician Tsang Cheng-hwa (臧振華) when speaking of the award-winning project with local media last month.

Their shelters of the settlers were in the form of houses on stilts, and the ceramic pots and stone tools they used resembled those found in Chinese coastal areas, said Tsang, a research fellow at the Institute of History and Philology at Academia Sinica and one of the heads of the project.

Those findings indicate that people living in Taiwan around 5,000 years ago were settlers from the southern part of what constitutes mainland China today and traversed waters to get to the island, Tsang said.

Few clues exist, however, to definitively answer the question of how people in the Neolithic Era crossed the Taiwan Strait, known for its nasty waves and currents, with tools suspected of being simple and crude.

Tsang has theories to answer that question and why so little evidence exists, some of them based on outside research, but finding conclusive proof remains elusive.

According to Tsang, the island of Taiwan was attached to the mainland during the ice age some 12,000 years ago.

By 5,000 years ago, when the settlers unearthed by Tsang and his team traveled from the mainland to Taiwan, a body of water had come to separate the two land masses but it may have been much shallower than it is today, Tsang said.

Scientists have also discovered evidence in recent years indicating the existence of a massive "shallow sandbar" lying between the mainland and Taiwan at that time.

The settlers might have taken advantage of the sandbar as a "land bridge" or "springboard" to sail across the Taiwan Strait in simple boats 5,000 years ago, Tsang said.

But because the boats were made of organic materials, such as wood, and were nearly impossible to preserve in Taiwan's warm and humid climate, no transportation-related objects have been found at the site, Tsang said.

That's not to say the project has not paid dividends. It won a Field Discovery Award at the 2015 Shanghai Archaeology Forum in December last year.

The Shanghai Archaeology Forum, founded in 2013, is a biennial event dedicated to promoting the investigation, protection and utilization of the world's archaeological resources and heritage.

The Tainan project was honored "for its efforts and achievements in saving Taiwan's precious archaeological heritage," Academia Sinica said in a press release dated Jan. 5.

"The work of this project, with its long history, great use of manpower, and its wide area of excavation, is unprecedented in the history of archaeology in Taiwan." the institution said.

As of January, 58 archaeological sites have been discovered in the area, and large scale excavation was being conducted on 34 of them.

These sites date back to Taiwan's prehistoric era 5,000 years ago. They cover a ground area of more than 120,000 square meters, and the remains excavated have been divided chronologically into six cultural strata, Academia Sinica said.

From 1995 to 2010, five major stages of surveying and excavation were carried out over an area of 3,000 hectares of land as well as in neighboring areas that were developed later, it added.