New biomolecular archaeological evidence for Nordic "grog," expansion of wine trade, discovered in ancient Scandinavia
University of Pennsylvania
Source - http://phys.org/news/2014-01-evidence-nordic-grog-scandinavia.html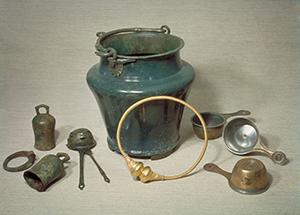 Winters in Scandinavia were long and cold in the Bronze and Iron Ages, then as now—but a blazing fire was not the only thing to keep people warm. From northwest Denmark, circa 1500–1300 BC, to the Swedish island of Gotland as late as the first century AD, Nordic peoples were imbibing an alcoholic "grog" or extreme hybrid beverage rich in local ingredients, including honey, bog cranberry, lingonberry, bog myrtle, yarrow, juniper, birch tree resin, and cereals including wheat, barley and/or rye—and sometimes, grape wine imported from southern or central Europe.
Such is the conclusion based on new archaeochemical evidence derived from samples inside pottery and bronze drinking vessels and strainers from four sites in Demark and Sweden, combined with previous archaeobotanical data. The research ("A biomolecular archaeological approach to 'Nordic grog'") was recently published online in the Danish Journal of Archaeology (Dec. 23, 2013). Patrick E. McGovern, Scientific Director of the Biomolecular Archaeology Project at the University of Pennsylvania Museum of Archaeology and Anthropology and author of Uncorking the Past: The Quest for Wine, Beer and Other Alcoholic Beverages (University of California Press, 2009) is the lead author on the paper, which was researched and written in collaboration with colleagues Gretchen R. Hall (University of Pennsylvania Museum) and Armen Mirzoian (Scientific Services Division, Alcohol and Tobacco Tax and Trade Bureau [TTB], US Treasury), with key samples and archaeological evidence provided by Scandinavian colleagues.
The new biomolecular archaeological evidence provides concrete evidence for an early, widespread, and long-lived Nordic grog tradition, one with distinctive flavors and probable medicinal purposes—and the first chemically attested evidence for the importation of grape wine from southern or central Europe as early as 1100 BC, demonstrating both the social and cultural prestige attached to wine, and the presence of an active trading network across Europe—more than 3,000 years ago.
"Far from being the barbarians so vividly described by ancient Greeks and Romans, the early Scandinavians, northern inhabitants of so-called Proxima Thule, emerge with this new evidence as a people with an innovative flair for using available natural products in the making of distinctive fermented beverages," noted Dr. McGovern. "They were not averse to adopting the accoutrements of southern or central Europeans, drinking their preferred beverages