John Leonard
Source - http://www.athensnews.gr/issue/13512/58169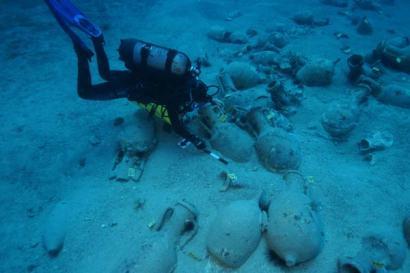 Μyrto Michali numbering and photographing amphorae on the late 2nd-1st c BC site near Makronissos (Wreck 23)         
Undaunted by the adversities of the economic crisis in this country, a local group of dedicated archaeological researchers continues to probe the hidden secrets and rich maritime history of the Greek seas. 
During the summer the sites of six previously undocumented ancient shipwrecks were located by the Southern Euboean Gulf Survey (SEGS), under the direction of nautical archaeologist George Koutsouflakis of the Greek Ephorate of Underwater Antiquities (EUA), as first announced on July 25 by the newly consolidated Hellenic Ministry of Education and Religious Affairs, Culture and Sports.
Although underwater archaeological investigations usually require larger operating budgets and greater commitments from sponsors and private benefactors than land research projects, Koutsouflakis' continued efforts and success in learning more about ancient sea traffic and trade patterns around the coasts of southern Evia confirm the old adage that where there is a will, there is a way.
The Gulf Survey represents a collaboration between the Greek government's EUA and the privately organised, government-approved Hellenic Institute of Marine Archaeology (HIMA), whose members - mostly Greek - are all volunteer professional and amateur archaeologists. In a recent interview with the Athens News, Koutsouflakis also noted that the collaborative SEGS project was launched in 2006 and has to date discovered and recorded 24 ancient shipwrecks, some of them in remarkable states of preservation.
The 2012 campaign, conducted from June 25 to July 8, focused on the coastal waters of Makronissos Island and an area north of ancient Thorikos near the southern tip of Attica. The wide Evian Straits, between Evia Island and the east coast of Attica, were an important link between the northern and southern Aegean, a major sea lane heavily used by many commercial ships, especially during the Hellenistic and Roman eras (late 4th c BC to 4th c AD). This year's SEGS team, while about half the size of previous teams, nevertheless located four ancient wrecks in the vicinity of Makronissos and two others near Thorikos.
Untouched wrecks
Makronissos proved to be a particularly rich hunting ground, according to Koutsouflakis, since three of the wreck sites discovered there appear extraordinarily well preserved and may contain the actual remains of the wooden ships, themselves buried beneath their mounded, concreted cargoes of transport amphorae, the distinctive ceramic containers usually used for the bulk shipment of foodstuffs, especially wine and olive oil.
Although the study of a wreck's cargo and other associated artefacts represent an important aspect of every shipwreck investigation and occupy much of an underwater archaeological team's post-survey or post-excavation research and report preparation time, it is the discovery, documentation and analysis of an ancient ship's remains that often hold the greatest satisfaction for nautical specialists always hoping to increase the present understanding of ancient ship technology.
What makes the SEGS project's latest finds around Makronissos especially unusual and noteworthy is that they provide pristine or largely untouched archaeological evidence not only for ancient Greek and Roman commercial activity, but also, potentially, for further tracking the development of ancient Mediterranean seafaring and naval architecture.
The three best preserved wreck sites recorded by SEGS this year include a large Roman-era ship of the mid-4th c AD (Wreck 16) lying off the northwest side of Makronissos and two other Hellenistic merchantmen of late 3rd c to early 2nd c BC date that sank off the island's east coast.
The Roman ship appears to have been a heavily laden wine carrier, with the estimated 300 amphorae now visible on the seabed outlining only the uppermost layer of the original cargo. 
Deeply lying sites 
Only half of this extensive surface collection has been documented so far, with the archaeologists making repeated daily dives down to 39-46m depths. It is already clear, however, that most of the ship's amphorae hail from North Africa (specifically Tunisia or Libya), with a small percentage from Sicily.
Apparently closer to home was one of the Hellenistic ships, with a large, unusually complete cargo of mid-Hellenistic amphorae originating in Rhodes, a conclusion based on parallels with similar containers previously excavated at the Athenian Agora. No legible handle stamps allowing additional identification of individual producers or contents have yet been discovered among these jars, recorded by SEGS at a depth of 40-46 metres.
Particularly impressive is the late 2nd to 1st c BC Makronissos wreck (Wreck 23), which appears to be a completely intact "virgin" site, displaying no signs of damage from previous visitors. Lying on a level seabed at 37-40m and largely buried in sand, this wreck holds the greatest potential for containing well-preserved wooden remains of the ship itself. The cargo consisted of Italian and typical Hellenistic Rhodian amphorae, the latter exhibiting legible handle stamps that still need to be deciphered.
Lesser finds in 2012 include a fourth wreck site (depth: 40m) near Makronissos, of 1st c BC-1st c AD date, containing about 20 complete amphorae belonging to a small Roman merchant ship.
Local site informants
North of Thorikos, a fifth wreck also of Roman date (1st-2nd c AD) was discovered at shallow depths (7-15m). Prior to meeting its fate, this ship had been transporting a load of terracotta building supplies consisting of typical Roman roof tiles and thin, rectangular or square constructional tiles. A number of fragmentary amphorae are also visible amid the surface scatter of spilled cargo.
A sixth wreck of Hellenistic date, found in very shallow water also in the Thorikos region, contained only fragments of poorly preserved Greco-Roman amphorae from a ship that may have been caught in a storm and blown aground, where it eventually was broken up by pounding seas.
The fruitfulness of the project's 2012 season bodes well for the future, since the SEGS team looks forward to being able to conduct at least two or three further campaigns. This season marks only the second year of systematic marine exploration by the Gulf Survey in the Makronissos-Thorikos marine area. Koutsouflakis reflects that a smaller, slimmed-down team allows more operational flexibility, but as only a small portion of the search area has been covered so far much work remains to be done.
Potential wreck sites are sometimes brought to the archaeologists' attention through local informants (see box), "people of the sea" consisting mostly of fishermen and divers, who provide SEGS with initial targets out of which search patterns can be followed to locate additional sites.
Documentation of the wreck sites is accomplished using techniques like photogrammetry - photography for location and orientation of an object - and photo mosaic recording techniques, in addition to measurement and drawing by hand. 
A variety of techniques
Diagnostic samples from significant wreck cargoes are occasionally lifted for further study. Koutsouflakis places great value on the human expertise his team has developed over the past six years together. SEGS archaeologists now have a close feel for local weather conditions within the straits, how ancient mariners may have reacted and where the best areas for wreck sites may be.
Seabed conditions within the straits are not ideal for boat-towed, side-scan sonar survey equipment, since these devices usually operate best along sandy and level terrain. No such equipment was employed by the survey team this year and the project director suggests that such technology cannot live up anyway to the expert eyes of a salty band of seasoned archaeologists. With an average of four wreck discoveries every year, the SEGS project has already established a highly respectable record of success and provided a substantial amount of data that now needs to be analysed and further investigated, perhaps even through excavation.
Like ancient mariners, however, modern marine archaeologists have to work within prevailing local conditions and their degree of operational success is similarly subject to the fickle nature of the winds, both atmospheric and economic. Unless the current fiscal crisis in Greece improves, Greek archaeologists will continue to find fewer and fewer days of clear sailing ahead.