Ephese (Turquie): Experts get down to 'puzzling' task at Yamaç Houses
Ephese (Turquie): Experts get down to 'puzzling' task at Yamaç Houses
Source - http://www.hurriyetdailynews.com/experts-get-down-to-puzzling-task-at-ephesus-yamac-houses.aspx?pageID=238&nID=70261&NewsCatID=375
The Yamaç Houses in the ancient city of Ephesus are now puzzle central, as researchers look to fit together hundreds of thousands of pieces from mosaics to restore the magnificent pictures that used to adorn the abodes' walls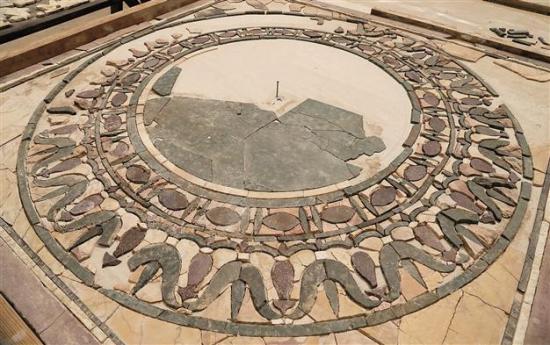 They might not be applying for a Guinness Record, but archaeologists in İzmir have got down to work on one of the world's largest puzzles, painstakingly piecing together 120,000 shards to re-create mosaics at the Yamaç Houses in Ephesus.
"This work needs patience and attention, and it looks like the puzzle game that everyone knows. The difference is that you know the picture when you are done with a puzzle; you can do it over and over again. Here, we are trying to complete a picture that we don't know. It is more difficult but very exciting. We don't understand here how the time goes by. It takes months to finish a [section]," said the head of the restoration team, sculptor and restorer Sinan İlhan.

The researchers' work has attracted interest from a growing number of visitors that come to watch the team assemble the fragments on large tables. Of the 120,000 pieces, the team has so far succeeded in fitting together 50,000 pieces in four years as part of their "puzzle restoration."

The Yamaç Houses, which were built in the Roman era for the rich people of Ephesus, had features that could be luxurious even for today's houses, İlhan said, adding that the complex of seven villas, located on an area of 4,000 square meters, had systems like floor heating, cooling through cold water channels, marble brought from 50 quarries and ceilings decorated with gold leaves. 

The most splendid among the structures, which are also famous for floor mosaics and wall paintings, was a dining room from the house of Flavius Furius Aptus, who is thought to have been the priest at the Dionysus Temple, İlhan said.
"The dining room of the house was decorated as a prestigious hall where guests were hosted. The hall was decorated with colorful marble plaques brought from 22 quarries. The hall, which had a pool in the middle, collapsed during earthquakes like the other houses. Excavations revealed some 120,000 marble pieces, which are thought to have belonged to this hall. Within the scope of the project that was initiated four years ago, we started assembling these pieces and put them in their places. A team of six persons scatter these small pieces on desks and try to find their correct place according to their color and design," he said.
The first marble row in the hall has been finished and the second row will be finished this year as well, İlhan said. "It is not possible to completely restore the plaques in the hall but we will continue doing the puzzle until it gives an idea to people to understand the magnificence of the era."

İlhan said that the project was the world's largest puzzle restoration. "At one stage, we started using software developed in this field. Each piece was scanned and matched with another one in the computer. But this system was too slow and costly, so we returned to manual work."
One of the restoration team members, Serkan Ergen said he had solved a few puzzles before starting the project but now felt like an expert after four years of experience. 

The task requires patience and attention, Ergen said, adding that the team could assemble just 50 to 60 pieces a day. "Some days we are lucky, and we can assembly 200 pieces. We enjoy the picture that we see when the pieces are assembled."