"Duropolis" (G-B): Dig Unearths Prehistoric Town
"Duropolis" (G-B): Dig Unearths Prehistoric Town
Bournemouth University
Source - https://www1.bournemouth.ac.uk/news/2015-07-12/dig-unearths-prehistoric-town
A previously unknown prehistoric town, which archaeologists have dubbed 'Duropolis' after the local Iron Age tribe (the Durotriges), has been uncovered by Bournemouth University students as a part of an archaeological dig near Winterborne Kingston in Dorset.
Remains of 16 Iron Age roundhouses have been examined and geophysical survey has revealed that at least 150 roundhouses and associated features lying along a hill-slope in East Dorset.
The find could shed light on what happened to the prehistoric inhabitants of Maiden Castle when they moved on from the hill-fort in the 1st Century BC.
The township is one of the largest ever discovered in Britain and also shed light on what life was like for our ancestors before the Roman invasion in the middle of the 1st Century AD.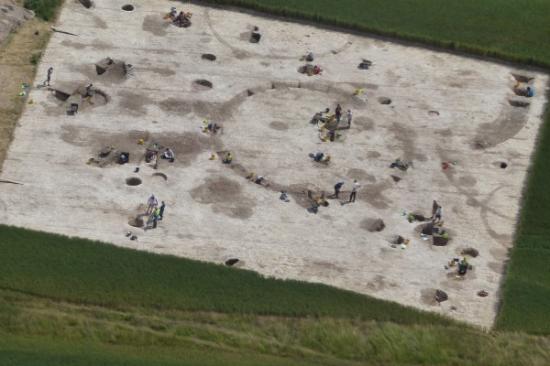 Dr Miles Russell, an archaeologist at Bournemouth University and co-director of the Durotriges Big Dig said, "We've exposed remains of 16 roundhouses in the two trenches we've dug. They are pre-Roman house structures, the last that inhabitants would have been living in before the Romans arrived. We know that there are around 200 of these across this area, so we've got ourselves a prehistoric town or proto-urban settlement.
Aerial view of some of the Iron Age roundhouses
"What we've discovered is extremely significant for the whole of Southern Britain because in the past archaeologists have tended to look at really obvious sites, like the big hill-fort of Maiden Castle, near Dorchester. What we have here is an extensive open settlement, not a hill fort, so it wasn't visible as a settlement from the earthwork on the landscape. What we've discovered is one of the earliest and largest open settlements in Britain."
Paul Cheetham, another co-director on the dig and also an archaeologist at BU continued, "What this suggests is that there are other big centres of occupation before the Roman arrival, this is a big open settlement, probably one of the first that the Romans encountered when they arrived. It exposes the myth that everyone lived in protected hill forts – these inhabitants lived in this fertile farmland, away from the traditional hill forts we are all used to hearing about."
As well as the roundhouses, students have also uncovered animal bone remains (which were the subject of this Independent article), quern-stones (used for grinding), spindle whorls (used in weaving) and metalworking debris, all activities of life in what would have been a vibrant township.
The Durotriges Big Dig, hosted yearly by Bournemouth University, gives students a hands-on experience with a live archaeological site. In previous years, students have uncovered Roman villas and skeletal remains, as well as a host of archaeological artefacts.
Members of the public were also able to see the discoveries with their own eyes during the Big Dig Open Day on the final day of digging. The Open Day took place as a part of Bournemouth University's Festival of Learning, and was attended by hundreds of people.
One such person was Rob Clitheroe, of West Moors, who said, "I picked up a Twitter message and started following the dig then. I've always been interested in archaeology but the first time I've ever done it. I've enjoyed my time immensely, seeing this, it's been fascinating. Absolutely brilliant. The size of the very large roundhouse and the precision with which they cut the trenches, its remarkable. The idea of some of those pits too – the scale and the logistics of it all. I'd absolutely recommend it to others too."
For more information about the Durotriges Big Dig, and its discoveries, watch our YouTube video.