Dunino (Pologne): a large burial ground from the Bronze Age
Dunino (Pologne): a large burial ground from the Bronze Age
PAP - Science and Scholarship in Poland
Source - http://scienceinpoland.pap.pl/en/news/news,406506,lower-silesia-archaeologists-have-discovered-a-large-burial-ground-from-the-bronze-age.html
One of the richest Bronze Age cemeteries in the Polish lands has been discovered by archaeologists near the village Dunino in the commune Krotoszyce (Lower Silesia). Archaeologists found about 200 burials richly equipped with bronze and clay items that had been deposited into the graves.
4 thousand years old burial ground was discovered at the construction site of S3 expressway between Nowa Sól and Legnica.
"We discovered a cemetery containing about 200 graves. We already know that this is one of the most interesting Lusatian culture burial grounds in Lower Silesia, and one of the richest in Poland" - told PAP Izabela Kadłucka, archaeologist conducting research on site.
According to archaeologists, burials were of the elite of the local communities. It is evidenced by rich equipment of graves. Archaeologists found bronze pins and earrings, and numerous vessels used in burials.
"Researchers have found burials ash and pit graves. That is, the skeleton of the deceased was burned at the stake, and after burning ashes were poured into an urn or directly into a pit in the ground. Many graves contain several urns and several dozen accompanying vessels that contained funerary gifts: foods, grains, and bronze ornaments. Some of the urns were covered with plates, bowls and other vessels" - said Kadłucka.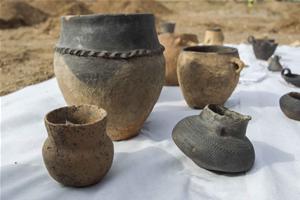 Photo: PAP 2015 / Aleksander Koźmiński
In the discovered graves archaeologists found skeletons of children. In those graves, they discovered ceramic rattles. "For the first time in several thousand years we could hear the sound of such a rattle. It contains fired clay balls" - said Kadłucka.
Archaeologists also found a ritual cart, whose most likely purpose was to transport souls. In the cemetery there were also the remains of barrows. People with the highest social status probably had been buried there.
Kadłucka emphasised that the discovery of a Bronze Age burial was a surprise for the archaeologists. "According to the archival data, the site was supposed to be the remains associated with the Battle of Kaczawa of 1813 between Napoleon's army and the Prussian and Russian armies" - she said.
Archaeological work on the site in Dunino will continue until November. After the completion of studies, the artefacts will be transferred to the Museum of Copper in Legnica, where they will be displayed.