Victoria Woollaston
Source - http://www.dailymail.co.uk/sciencetech/article-2833174/A-peek-inside-Viking-piggybank-CT-scans-treasure-chest-reveal-hidden-brooches-gold-ingots-ivory-beads.html#ixzz3Iy1aPm5c 
The mystery surrounding the contents of a Viking pot has been solved after researchers carried out a CT scan on the ancient artefact.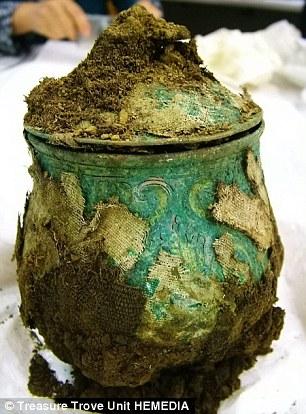 Archaeologists had been unable to open the pot to see what was inside, but its weight suggested it was full of treasure.  
After undergoing a series of scans, the 1,200-year-old pot was found to contain up to at least five silver brooches and an ornate bead.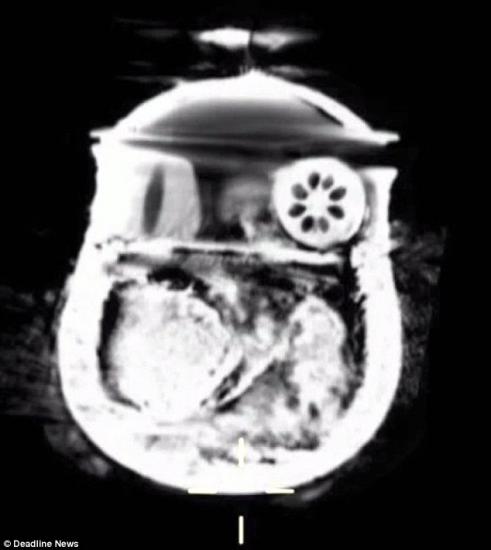 Experts used a CT scanner to inspect what is inside the Viking pot. The circular shape in the upper right corner is said to be an ornate bead. The dome object to its left is a bone or ivory bead, and the coil curling from the bottom left to the centre is five brooches. But the rectangular shape at the centre remains a mystery
It was among more than 100 objects discovered by metal detectorist Derek McLennan, 47 in Dumfries in September. 
Other items include solid gold jewellery, arm bands and silver ingots.
The find was deemed one of the most significant Viking hoards ever discovered in the UK, but the pot's contents were a mystery.
Experts were concerned about damaging the 9th century Carolingian pot when attempting to see what was inside.  
But now, the CT scanner at Borders General Hospital, Scotland, has revealed the ornate box contains around 20 silver, gold and ivory items.
The protected pot is shown being scanned in Borders General Hospital. The CT scanner consists of an X-ray tube that rotates around the object. These rays are received by a detector on the opposite side of the object, and an image of the scan is created. It produces 120 visual 'slices', and is accurate to within half a millimetre
Mr McLennan, a retired businessman, said the latest discovery was 'beautiful and exciting'.
'It brought it all back to me when I saw what was inside the pot,' he continued.
'I was like a kid looking in the sweet shop window unable to touch anything being on the other side of the glass.
'Nothing else had been on my mind for two-and-half-months than seeing what was inside the pot, and then seeing it, there was a rush of emotion and was incredibly exciting.
'I was absolutely amazed by what was inside the pot. There seems to be 20 plus artefacts in the pot, while most of them seem to be broaches of some sort.
'It's a real mishmash of artefacts. Not everything comes across clear as there are different types of metal in there.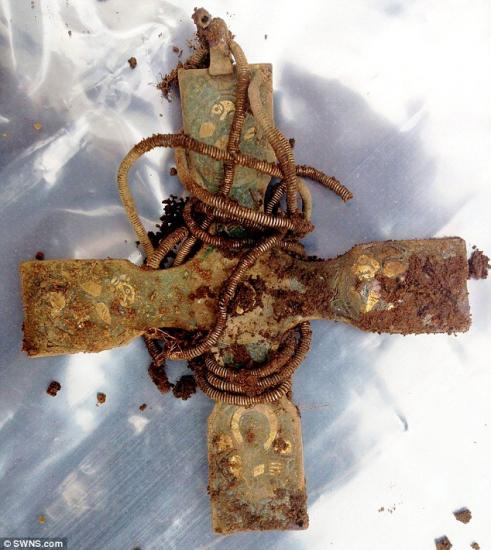 An early medieval cross was also found among the hoard of Viking treasure. The cross is engraved with decorations that experts claim are highly unusual, and which finder Mr McLennan believes may represent the four Gospels