Dongola (Soudan): 900-Year-Old Tomb with 7 Mummies and Mysterious Inscriptions Found
Dongola (Soudan): 900-Year-Old Tomb with 7 Mummies and Mysterious Inscriptions Found
Sanskrity Sinha
Source - http://www.ibtimes.co.uk/sudan-900-year-old-tomb-7-mummies-mysterious-inscriptions-found-1430079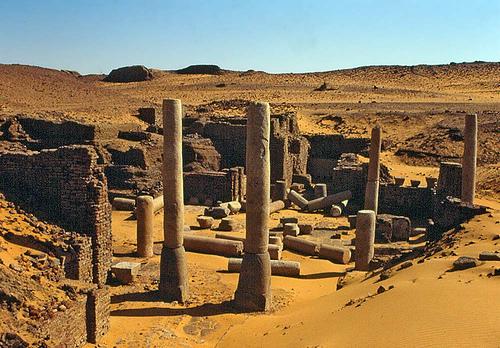 The ruins of deserted town of Old Dongola in Sudan where a tomb with mysterious inscriptions and seven mummies have been found.Wikimedia Commons
Archaeologists have uncovered a medieval tomb having seven male mummies and walls covered with mysterious inscriptions all over in a monastery in Sudan.
Though the tomb was first discovered in 1993 and not excavated until 2009, the discovery report has been published in the latest edition of the journal Polish Archaeology in the Mediterranean.
The tomb, believed to be 900 years old, lies in the deserted town of Old Dongola, which flourished in the Nile Valley as the capital of a lost medieval kingdom of Makuria. The kingdom of Makuria, a Christian kingdom, was located in what is today Northern Sudan and Southern Egypt.
The inscriptions on the tomb's wall were probably written by "loannes", whose signature has been found on three walls.
They were written to protect the tomb and those buried there from evil, according to archaeologists.
The inscriptions were "intended to safeguard not only the tomb, but primarily those who were buried inside of it during the dangerous liminal period between the moment of dying and their appearance before the throne of God," Adam Łajtar of the University of Warsaw and Jacques van der Vliet, of Leiden University, wrote in the report.
The text, written in black on the whitewashed walls of the crypt, include excerpts from the gospels of Luke, John, Mark and Matthew, a prayer given by the Virgin Mary and about 38 signs in magical alphabets. The text was written in Greek and Sahidic Coptic.
Archaeologists believe the text indicates that one of the mummies in the crypt could be that of Archbishop Georgios, the most prominent religious leader in Makuria in the 11th century.
"The excellently preserved Greek text concerns the archbishop Georgios, archimandrite of the Holy Trinity monastery, who died in AD 1113 having lived 82 years, of which 50 as bishop," archaeologists noted.
The other mummies were of men, all over 40 years of age. All the mummies were dressed in linen robes and some of them wore a cross.