Source - http://www.dailysabah.com/nation/2014/09/09/dna-analysis-on-human-bones-to-give-clues-about-anatolian-peoples-gene-structure?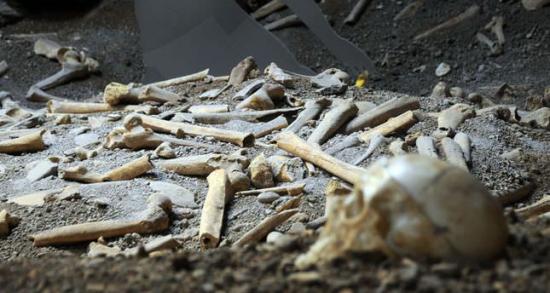 Excavations in the Döngel village of Kahramanmaraş, which began in 2007 by Gazi University Associate Professor Cevdet Merih Erek are ongoing. Officials from the Ministry of Culture and Tourism and university students have been attending the excavations that are carried out under the lead of Erek. During this year's study, human bones were unearthed in the Direkli Cave and they will be sent to a facility in the U.S. It is expected that important data about ancient Anatolian people and the archeology of the region through DNA analysis will be obtained. Speaking to Anadolu Agency (AA), Erek said they have acquired various data about the archeology of the city and Anatolia during the excavations in the cave. He said the findings in the cave date to 14,000 B.C. and pointed out that the cave is situated on the point Anatolia intersects with the Arabian Peninsula. He said that the Direkli Cave was on a key migration path, adding, "This is a residential area that was once inhabited by people throughout certain periods [of history]." He said that they believed people chose this region as it is rich in nutritional resources. He said that they mostly discovered turtle and mountain goat bones in the cave. "These discoveries reveal that these animals were consumed by [ancient] people," Erek said. He also emphasized that they will start to study the human bones unearthed in the cave. The scientists aim to obtain information about the genetic features of ancient Anatolians and determine how far these features expanded. The study will also give an idea about speculations as to whether Anatolian culture was born in Anatolia or was brought from somewhere else. "Gene analysis will help us to understand some things better," Erek said, adding, the data will give important insights about the past. 

Direkli Cave excavations, which have been taking place in Döngel were initiated by Professor Kılıç Kökten in 1959. The excavations that began on the basis of Kökten's article revealed important data. The mother goddess figure that was found four years ago during the excavations under the direction of Erek drew great attention around the world.