Dinajpur (Inde) : Excavation on in the 1,000-year-old site
Dinajpur (Inde) : Excavation on in the 1,000-year-old site
Kongkon Karmaker / Andrew Eagle
Source - http://www.thedailystar.net/backpage/dinajpur-temple-sheds-new-light-distant-past-1430014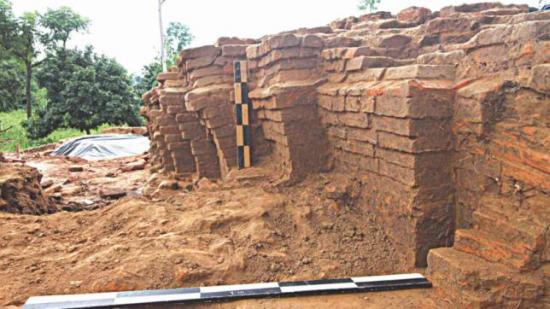 The excavation site in Biral upazila of Dinajpur where archaeologists found a thousand-year-old Saptaratha temple recently. Ratha means facet or vertical offset projection on the tower and this temple's design features Saptaratha or seven facets. Photo: Star
Long-renowned for its archaeological wealth, the importance of the Dinajpur region to the study of ancient Bengali civilisation has recently been confirmed. A one-thousand-year-old saptaratha style Brahmanical temple under excavation in Biral upazila, thought to be the first of its kind in Bangladesh, has archaeologists excited.
"The site is known as Burir Than, a sacred place of the Hindu goddess Buri," explains the director of the excavation team, Dr Swadin Sen, an archaeology professor from Jahangirnagar University. "It consists of a mound measuring 80 metres east to west and 60 metres north to south with a small temple dedicated to Buri at its apex."
"The original site would have been larger," he notes. "Some portion along the western and southern perimeter is occupied by locals."
The unearthed temple consists of a 36-square-metre sanctum with an assembly hall to the east. There is a curvilinear tower known as a rekha shrine in the sanctum and a characteristic stepped tower in the assembly hall.
Of architectural significance, the temple features a stone pedestal in seven-faceted 'saptaratha' design. "According to the available canons of art and architecture like the Bhuban Pradipa," explains Dr Sen, "temples are classified as triratha, pancharatha, saptaratha and navaratha depending on how many facets are present in pedestal design. Triratha is the earliest style, navaratha the most recent."
The dig has also yielded an earthen pot primarily used for displaying idols for worship, of the type known as a 'ghat' which often serves as a focal-point for worship in the absence of a formal idol.
Experts estimate the date of temple construction is between the 10th and 11th centuries CE.
"The architecture closely resembles the distinctive Kalinga style found in the Indian state of Odisha," says Dr Sen. Whereas the Odishan temples were primarily constructed of stone however, the temple in Biral relies on brickwork.
Beside the temple the course of a long-since vanished river, the Paruganga, has also been discovered.
First identified in 2005, formal excavation of the site began two months ago. "Work is ongoing," says Abir Bin Keyser, a doctoral student and assistant director of the team. "Complete excavation will require another four months."
The excavation team consists of 45 members, with work funded by the cultural affairs ministry and the university grants commission in cooperation with the archaeology department.
The temple is one of more than 120 surveyed archaeological sites in Biral upazila, an indication of the importance of the area and the region to study of Bangladesh's distant past. "Such ancient structures are enormously valuable in improving our understanding of human development in this part of the world between the 9th and 14th centuries CE," says Prof. Syed Mohammad Kamrul Ahsan, the team's associate director.