Utility company crews replacing a gas pipeline unearth a pit house dating back 500 to 1,500 years.
Christopher Smart
Source - http://www.sltrib.com/home/2460865-155/dimple-dell-park-was-home-to
(Francisco Kjolseth | The Salt Lake Tribune) Archaeologists excavate the remains of an ancient pit house
 It's not unusual for residents around Dimple Dell Park to gaze out over the creek that runs through it, as the smell of barbecue wafts about on a warm spring evening — and, as it turns out, folks were doing that 1,500 years ago, too.
Recently, a Questar construction crew replacing the natural-gas pipeline under Dimple Dell uncovered an ancient pit house. Archaeologists working with the gas company recognized it as a prehistoric dwelling, complete with a fire pit, where the indigenous people cooked.
Researchers have found spear points and animal bones, including rabbit, deer and possibly elk, said Lance McNees, of EcoLogic Environmental Consultants, which contracts with Questar.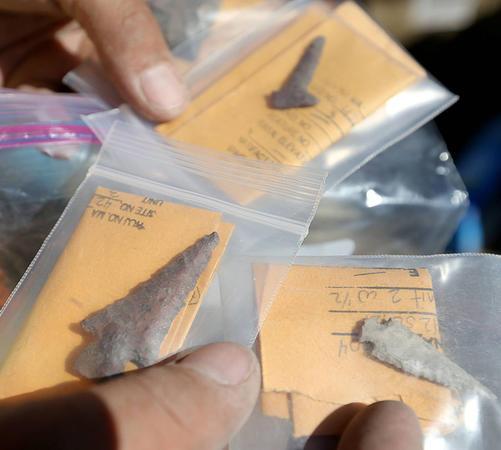 (Francisco Kjolseth | The Salt Lake Tribune) Archaeological technician Rachel Collister holds a drill and several projectile points that were discovered in the remains of an ancient pit house in Dimple Dell Canyon in Sandy, Utah. The ancient site was discovered by an archaeological crew working with Questar Gas that is in the process of installing a new gas pipeline in the area. Currently estimated to be between 500 and 1,500 years old, the site has revealed projectile points, chipped rocks, animal bones and obsidian cutting tools or hunting tip.
"We knew we really had something here," he said. "We decided to excavate the site, and right now we are gathering a lot of data."
That information will take months to analyze, including carbon-14 dating that can pin down the age of the artifacts. But judging from the spear points found in the pit house, McNees and other archaeologists on the team believe they are 500 to 1,500 years old.
"It's an exciting find," said Lori Hunsaker, deputy state historic preservation officer. She complimented Questar for recognizing and excavating the site because the gas company is under no legal mandate to do so on nonfederal land.
Gas company crews rerouted the pipeline around the pit house to save it for analysis, said Terry Wood, president of the Dimple Dell Advisory Board and a former TV newscaster.
"They could have gone straight through," he said. "But they jogged this way and that way to avoid it."
The pit house facing the winter sun on the south-facing slope of the drainage is believed to be a place used in the cold months, Hunsaker said. Beyond that, the location makes sense because it's close to the creek that provides drinking water, and just as important, attracts game.
Being able to date the artifacts will help scientists know more about the people who built the pit house, Hunsaker said. But because there were various bands of indigenous people who roamed the area, it may not be enough to identify exactly which group left the artifacts.
The Wasatch Front is an environment rich in resources and supported populations of indigenous people for centuries before white settlers arrived, Hunsaker said.
Questar and the archaeology team asked that the exact location of the dig not be publicized in an effort to keep it from being compromised by curiosity seekers or those who would plunder it for monetary gain.
Dimple Dell Park encompasses some 660 acres from 3000 East to 300 East at about 10600 South.
Once all the scientific data are gathered, the pit house will be covered up and revegetated along with the rest of the pipeline route, according to Laura Springsteen, Questar's environmental coordinator.
Leaving it open to the elements, she said, could destroy it.