Digging our own grave
Digging our own grave
Source - http://www.sundaytimes.lk/110918/Plus/plus_05.html
Dr. Kavan Ratnatunga has his first experience of an archaeological dig up in the hills of Haldummulla
The highlands of Lanka have clear evidence of an ancient protohistorical social order. There is evidence of agriculture at Horton Plains dating back to 17,000 years BP (Before Present). Further down the slopes, clay canoe burial sites hold the cremated remains of people. These have been excavated and carbon dated back to over 1500 BC by Prof. Raj Somadeva of the Post Graduate Institute of Archaeology (PGIAr).
Last year, I had visited excavation sites at Ranchamadama near Embilipitiya and Haldummulla and when the non-profit organization archaeology.lk offered an opportunity to participate in an actual dig they were doing from September 2 to 5, it was clearly an opportunity I did not want to miss. Commander N. G. A. Fernando (Sri Lanka Navy retired) agreed to join this short course with me to learn how to do a scientific archaeological excavation.
Being the end of the school holidays there were no reservations available on the night train and so we decided to travel overnight by the Colombo-Badulla luxury bus. The seats in this private coach could only be reserved and paid for via a Dialog mobile, which may have been the reason they were still available.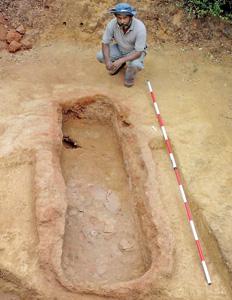 The excavated clay canoe with layer of cremation pots
Leaving from the Pettah bus stand at 11 p.m. we reached Haldummulla at 3:30 a.m. after a smooth journey. We had booked in a small hotel called "Green Curry" (see Plus Pg 4) and had informed them of our early arrival. When we were shown our rooms we were also informed of the lack of water after a two-month drought.
This resulted in a late start in the morning, till they managed to get some water into the tank from a reserve. Luckily we had sufficient water for the rest of our stay although there was always the worry of water running out in the middle of a shower! We kept a five litre bottle of water handy for emergency use.
Most of the tea land in this area had been abandoned – earlier it had been distributed to villagers in small lots. The full excavation team of about a dozen people was invited to a nearby residence for a nice lunch. Our hosts would not accept any contribution and considered it an honour that we came to their home. We had this genuine Lankan hospitality each day from different families. Chatting with them we found that each of these families was a mix of ethnic and religious affiliations that was also reflected by the images in their residences. Clearly a true Lankan identity.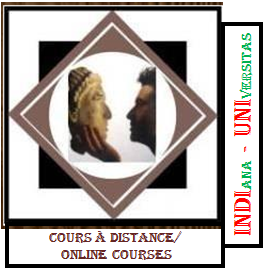 On the first day after instructions on the excavation and data recording process, we watched work being started on the primary burial site. All that was visible at first was the faint reddish outline of the top of the clay canoe on the gravel estate road. The first day's careful digging did not expose any artifacts.
That evening we walked over to see a settlement on top of a nearby hill. The site was being used as a modern cemetery. The ground had much evidence of ancient artifacts - we picked up a few pieces of broken pottery (potsherds). Prof. Somadeva identified a small piece of quartz as a Microlith, a tool made of clear quartz used in the protohistorical period. Microliths have been found as items placed in burials, some of which date back 30,000 years.
The next day we continued our instruction, as we watched the burial site being dug deeper and deeper. That evening we visited a second burial site nearby, the scientific usefulness of which had been sadly lost. This particular site had been previously dug by the villagers expecting to find treasure, after reading reports of last year's excavations. I requested Prof.Somadeva permission to excavate a part of that grave to find out what had been done to it.
So it was that on the third day we put our instructions to practical use by starting to dig our own grave. We soon found lots of potsherds and burnt charcoal which were probably the human remains in that burial. It had clearly been just dug and refilled when the villagers found nothing of commercial value. At the primary site they had exposed the top layer of crushed pots in which the remains had been cremated. It appears that the skeletal remains from a grave had been brought to these burials to be cremated in these pots.
That afternoon we walked past last year's excavation site. Dated to over 1500 BC, it is the oldest canoe burial site in Lanka. After that excavation Prof. Somadeva, had refilled the site and the PGIAr had provided funds to the local authorities to protect it, and maybe make it a tourist attraction. However nothing of the expected work had been done. This invaluable site is rapidly getting destroyed beyond any hope of recovery, rather than being showcased for both local and foreign tourists.
We next visited two ancient settlement homes which had been uncovered by Prof. Somadeva during the previous two weeks of excavation. It was downhill from the burial sites and had been identified by the multitude of potsherds that had been found on the surface. Much more had been found during the excavation and had been collected to be reburied at the site when it is closed.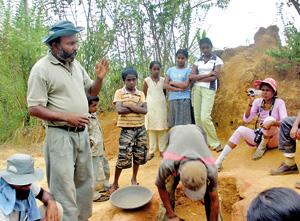 How it's done: Prof. Raj Somadeva explains details of the excavation, while neighbourhood children watch
On the fourth day we continued digging our burial site, to try reach down to the depth to which it had been previously dug by villagers. We did not reach that depth. In the primary excavation the pottery was carefully recorded and removed. The cremated remains were collected for carbon dating - a slow and delicate operation.
That afternoon we visited an ancient tank, which had a more primitive construction and was probably older than tanks found in the ruined cities of Lanka like Anuradhapura and Polonnaruwa. This was the last day of our eye-opener on archaeological excavation.
Deciding it was time to do some sight-seeing we visited the Bambarakanda Falls which was almost without water because of the long drought. The flow was seen to even stop for few seconds, although not long enough to see the falls disappear. It was too late to walk to the base of the falls.
The next day we visited a site of early iron smelting, which had recently been located by Prof. Somadeva a few kilometres south of Haldummulla. We first visited the Soragune Devalaya which had been originally built in the 1st century BC during the era of King Valagamba. It is currently being restored by the Archaeological Department.
The devalaya had sold some of its land, the forests of which were being cleared for rubber plantation. Evidence of iron smelting had been found on one of the lands, which was at 300 metres above sea level, down from 1000 metres of Haldummulla. There were lots of slough left over from the smelting process, and potsherds. The most interesting were clay pipes with residual iron hardened within them, probably an indication of wind-blown furnaces like those found some years ago at Samanalawewa, which is only about 12 km west of this site.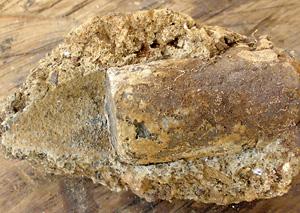 Part of a clay pipe with residual iron hardened within it
Returning to check out of our hotel, we were in for a different kind of surprise to find they did not accept credit cards. There are no major retail stores which accepted them either. The Bank of Ceylon and People's Bank branches could not even give a cash advance.
The nearest ATM was 15 km away in Haputale. Back in 1870 the Oriental Bank Corporation branch at Haldummulla issued currency notes.
The only other cities to do so were Colombo, Kandy, Galle, Jaffna, Nuwara Eliya and Badulla. However with many of the tea plantations no longer active, Haldummulla is now financially unconnected to the modern world. So a word of warning- don't get stuck without cash to pay your hotel bill. Plastic is of no use.
It had been a fabulous trip to Haldummulla where we were able to reconnect with our past. And if you don't take your laptop with Internet dongle you can also disconnect from the modern world as well.