Damagou (Chine): wooden tablets deciphered
Damagou (Chine): wooden tablets deciphered
CCTV
Source - 
VIDEO = http://english.cntv.cn/program/cultureexpress/20130217/105095.shtml
Chinese archaeologists are excavating sites in the Taklamakan Desert in northwest China's Xinjiang Uygur Autonomous Region. The Damagou township, used to be the realm of an ancient kingdom, contains a wealth of relics. Wooden tablets are among those that have been unearthed, and experts have now deciphered the writing on some of them.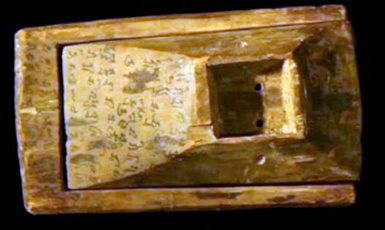 Chinese archaeologists dig for secrets at a site in the Taklamakan Desert in northwest China's Xinjiang Uygur Autonomous region [Credit: CCTV]
Duan Qing, a Peking University professor is an expert on East Asian language. She has just finished deciphering four tablets unearthed in Damagou. All of them are trading documents, with one tin excellent condition.

Duan said, "The writing is about a wealthy man, who sells his large villa because he is desperately in need of money. The villa includes a house, two gateways, and walls. But such a building only sold for 600 copper coins."

Duan says the tablets belong to a same person, Pei Nai, as those collected by the National Library she has deciphered before. The name can be seen on the tablets.

Duan said, "That tablet says Pei Nai bought a girl who was sold by her uncle. He bought her with 2,100 copper coins, equal to the value of four rolls of silk. The tablet also says if the girl can give birth to a son, she would become his wife".

Duan says in documents collected by foreign agencies, the name "Pei Nai" can also be found.

Duan said, "In a document owned by a British museum, Pei Nai uses 540 jin or 270 kilograms of wheat, to end a fight between two sides."

From Duan's research, we get a profile of Pei Nai. He is a wealthy man, owning his own villa. Around the year 720, he paid a high price for a girl. Three or four decades later, he sold his villa for a very low price because he was in need of money. Duan says this man had a brilliant life, with a high social status, and was very influential in his hometown, what is today's Damagou area, then part of the kingdom of Yutian, a subnation in the Tang dynasty.