Cul na Móna (Irlande) : Iron Age Bog Body Discovered
Cul na Móna (Irlande) : Iron Age Bog Body Discovered
Iron Age Bog Body Discovered In Ireland
Mark Dunphy
Source - http://www.irishweatheronline.com/news/earth-science/archaeology/iron-age-bog-body-discovered-in-ireland/31582.html
Iron Age human remains have been discovered in a County Laois bog.
The remains, understood to be those of a young woman, were found by an employee of Bord Na Móna who was operating a milling machine in the Cul na Móna bog between Abbeyleix and Portlaoise on Wednesday evening.
Initial examinations of the prehistoric remains suggest the victim may have been a human sacrifice between 2,000 and 3,000 years ago. The National Museum of Ireland said the victim's legs were well preserved but that the torso and head appeared to have been lost. The remains will be removed to the National Museum in Dublin for further examination in the coming days.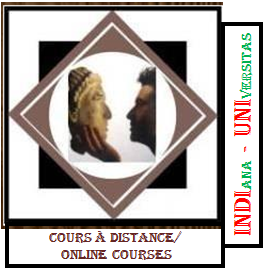 ARC 100 : Introduction à l'Archéologie / Introduction to Archaeology
ARC 101 : Les grandes découvertes archéologiques
ARC 102 : Histoire de l'Archéologie / The history of Archaeology
There have been over 100 bog bodies found in Ireland, but many were not well preserved.
According to Irish Peatland Conservation Council: "For thousands of years the bogs, through their extraordinary preservative qualities have kept ancient remains intact that would have otherwise perished on dry land; such as the bodies of unwary travellers trapped in the bog, or prehistoric track ways; and sometimes even whole villages and farms."
Bogs can be treacherous places and it is likely that some of the bodies found in the peat were those of travellers who slipped into bog pools and were trapped. Some ancient bodies found in the peat were supposedly found clutching heather or sticks as if attempting to haul themselves out. Other bodies found in bogs are deliberate burials.
The first time an opportunity arose to examine an Irish bog body in detail occurred in 1978 when a body was discovered in Meenybradden Bog, Co. Donegal. The body of a young girl aged between 25 and 30 years old was discovered during hand turf cutting in Meenybradden Bog, near Ardara, Co. Donegal in 1978. The naked body was wrapped in a woollen cloak, of a style worn in the Middle Ages, which served as a shroud. The body had been carefully placed in a grave that had been dug in the bog about 1m below the surface.
A body found in 1821 at Gallagh, near Castleblakeney, Co. Galway and was radiocarbon dated to 2,040 years old, indicating that it belonged to the Iron Age. The body of a man lay at a depth of 3m in the bog. It was not conserved at that time because the technology of freeze-drying which is used today had not been invented.
The National Museum of Ireland has two well-preserved Iron Age bog bodies on permanent display. The bodies were found at Oldcroghan, Co Offaly, and Clonycavan, Co Meath.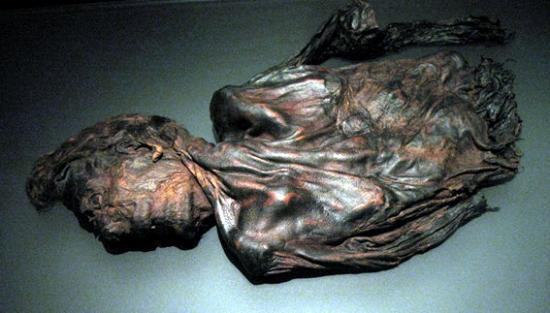 Clonycavan Man. Image Sven Shaw