Gary Ziegler
Source - http://www.peruviantimes.com/18/choquequirao-field-report-2015/25121/
I am just back from accompanying a small, interested group from US Embassy staff in Lima to Choquequirao, the remote, mountain Inca royal estate that has been a research focus and my passion for several decades. It was an educated, well informed gang, exhibiting great interest, sense of humor and fondness for happy hours — totally fun…
We hiked much of the steep trail but also rode part of the way on good, solid mules, which my Quechua speaking Cusco business and research partner, Edwin Duenas, lined up from friends at the old colonial town of Cachora.
We brought along US Army McClellan saddle copies that Edwin and I had made in Cusco some years back. They have a few, some might say, wimpy, modifications such as a comfortable sheepskin over seat and double rigging for steep climbs and descents. My cavalry ancestors likely would not have found these modifications unnecessary.
While revisiting two major outlying sites after some years, Capuliyoc and the Casa de Cascada group, we made several interesting new observations described below.
Passing through Lima on return, I gave a presentation on "Incas and extreme archaeology" with slides and a talk at the elegant, modernistic Instituto Cultural Peruano Norteamericano building in Miraflores, hosted by the American Women's Literary Club. The club's dynamic Kathi Huber and friends put it all together.
Choquequirao Observations
Not much has changed at Choquequirao since 2014. It was good to see that they are keeping Vince Lee's Ridge Group, Pikiwasi cleared.
Almost all of the Casa de Cascada group has been recently cleared, revealing a very interesting complex with more extensive water features than we had previously surveyed.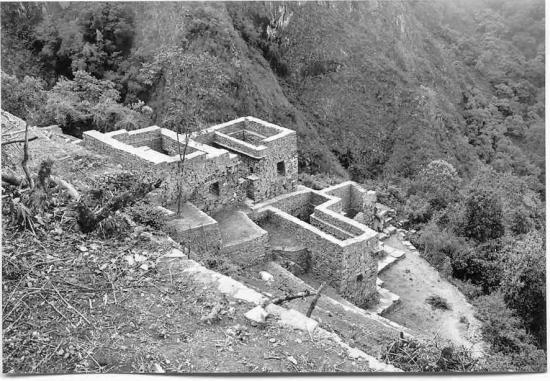 Casa de Cascada group newly cleared.
Of particular interest are in-place slate cornices indicated in the diagram and clearly visible in the recent photo. We have suggested that these may indicate a style imposed by workers brought in from Cachapoyas in Northern Peru by the Inca builders.
Cliff hanging Capuliyoc, perched thousands of feet precariously above the deep Apurimac gorge is now completely cleared with a good, direct trail leading from the Cascada Group.
We believe that this was a prime, micro-climate growing facility for ceremonially important coca in imperial Inca times.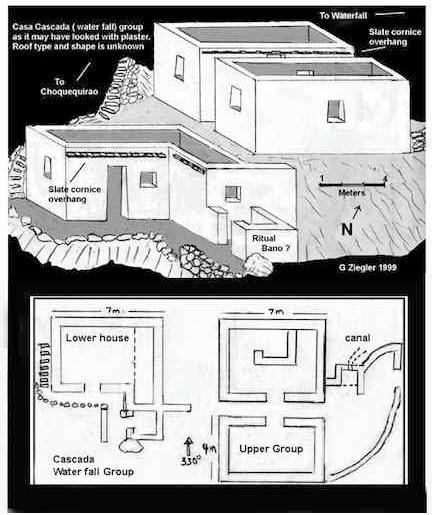 Site plan and drawing of the Casa de Cascada building group from earlier work at Choquequirao.
With ample warm, upslope breeze form the deep Apurimac and maximum sun light, the Capuliyoc terraces were ideally suited for growing one of the empire's most important crops.
Prepared at camp by our seasoned (no pun intended) Cusqueño chef, Pancho, lunch was packed down the hill to Capuliiyoc, artfully laid out for a planned midday arrival.
We enjoyed a spectacular lunch, attended by an uninvited, but most welcome and very curious, updraft hovering condor.
Even the lurking, biting gnats were awed, cautiously keeping their distance from the unexpected feeding opportunity.
Their ancient ancestors must have has a bad experience with the tougher Inca residents?
Curiously, the site administration has renamed Capuliyoc something unrecognizable. No one was working there at the time to question about the name change.
Choquequirao is now almost completely cleared with reasonable reinforcement of unstable walls and necessary reconstruction accomplished.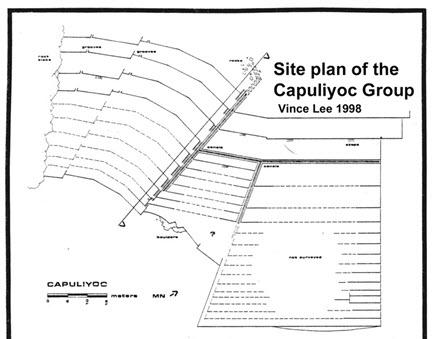 The complex stands revealed in much of its ancient splendor. Only missing are the tall, Ichu grass covered roofs and carefully plastered, rose painted walls that would have given Choquequirao a majestic, otherworldly appearance, appropriate for a sacred Andean ceremonial center.
Numbers of visitors are up slightly, some 15 to 30 per day. Several small, guided groups and a few independent, intrepid individuals trekked through during the days we were there. The groups are mainly low-end hiking tours speeding through Choquequirao on the way to Machu Picchu via the new road head at Yanama.
I came to realize that a new tourist focus is to do challenging treks as quickly as possible. The Choquequirao trek is being promoted as one of Peru's most challenging, becoming something for adventure collectors to check off. Sadly, there seems little interest in visiting or understanding anything but Machu Picchu, which may be becoming mainly a 'check off' as well.
The coolly-dressed, trendy looking, trek guides don't seem to have a clue what the ruins are about except that it was "the last city of the Incas," the latest misinformation going around.
Disturbing was the unprofessional and even dangerous service that several of these guiding companies exhibited. Clients are cut loose to hike alone with no apparent plan to assure safe arrival or preparedness in the event of emergency or illness.
Excessive drinking among staff was evident. We came upon a cook or perhaps a guide passed out alone on the trail. I immediately initiated a first responder medical assessment: vital signs, injuries, bleeding but found all normal.
It appears he had just come from a nearby roadside stop which sells chicha mixed with cañaso, local white lightning, having passed out. We could only leave him in place.
Had he fallen over another foot or two more, he would have rolled off into oblivion, hundreds of vegetation-covered feet below, not to be found until the condors circled.
We later informed his wranglers setting up camp. They just rolled their eyes and shrugged, not their concern or problem.
There goes the neighborhood.
Now the Andean rains of December have started in earnest. I look forward to the next return and ongoing adventure in April. GZ