Chiefs and Governors: Art and Power in Fiji
Chiefs and Governors: Art and Power in Fiji
Source - http://www.independent.co.uk/arts-entertainment/art/reviews/review-chiefs-and-governors-art-and-power-in-fiji-museum-of-archaeology-and-anthropology-cambridge-8647888.html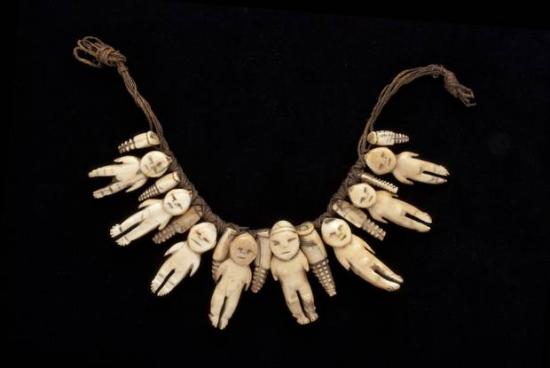 Human-shaped figures and pendants of whale ivory strung on fine plaited coir cords. Probably presented to Lady Gordon, 1875 - 80, Fiji.
Filian Art at the Museum of Archaeology, Cambridge
Necklaces made from whale ivory and fish hooks of ivory, pearl and turtle shell were part of a lavish system of gifts between Fiji's chiefs and their first British governor in the nineteenth century.
The importance of the sea resonates through the exhibition: whales, turtles, pearls, shells and coconuts. Jewellery and breastplates were made using an ingenious system designed for building canoes.
The most prized and rare objects were given to the governor Sir Arthur Gordon, and his wife, because island chiefs wished to align themselves with the most powerful chief of all, who they believed to be Queen Victoria. A spectacular necklace of carved ivory human shaped figures was presented to Lady Gordon along with giant tubua, which are ornaments made from whale tooth. Whale ivory was so prized because islanders did not hunt them but the creatures were washed up on beaches like gifts from the gods.
Objects had spiritual as well as material value. Sir Gordon was given an intricate carving of twinned goddesses - one of three to exist – which were believed to come to life at night, and run through their spirit house shouting out for food.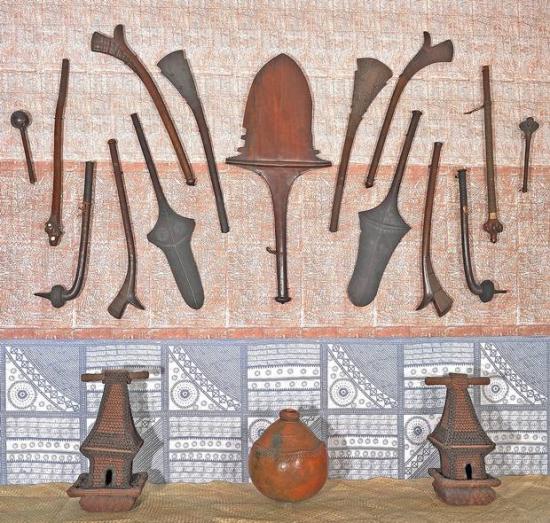 Collectors case in Chiefs and Governors, Art and Power in Fiji.
The exhibition, Chiefs and Governors, gives a sense of the convivial and complex relationship between indigenous chiefs and the British. Letters and documents show how domestic and political life intertwined, with dinners and parties where the governor and his family drank and sang with local chiefs. There was dancing and boat races; a photograph shows the governor who has slipped off the formality of his uniform down to breeches and bare feet. We are shown how objects structured social and political life. From ceremonial bowls used for drinking yaqona, which was the local cava based intoxicant, to the beautiful carved spears used for fighting.
Such an impressive collection is also down to the adventurous spirit of the Victorian explorer and collector, Baron Anatole von Hugel who travelled to Fiji and obsessively trawled the island, collecting as he went. He was taken into the governor's house after being found emaciated and penniless, having traded everything he owned, included the buttons of his uniform. When the governor and the Baron left the island after five years, their combined collection came with them to become part of Cambridge University's Museum of Archaeology and Anthropology.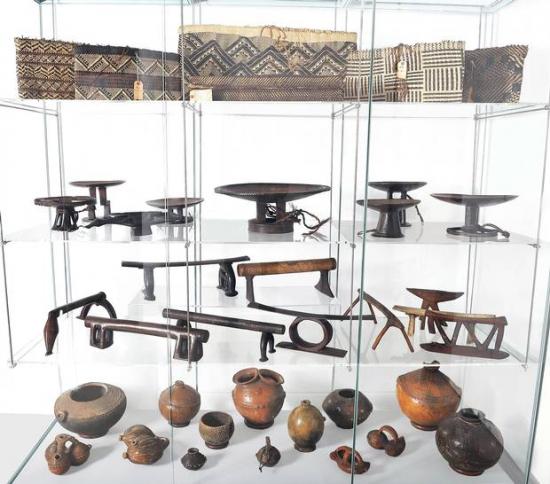 Shot of Chiefs and Governors, Art and Power in Fiji. Display evoking the dining room at Government House, from a photo c. 1875
It is a fascinating look at a particular moment in history, and the burgeoning story of art history in the South Pacific.
Until April 2014