Rabindra Nath Choudhury
Source - http://www.asianage.com/india/largest-stone-age-flake-tool-found-984?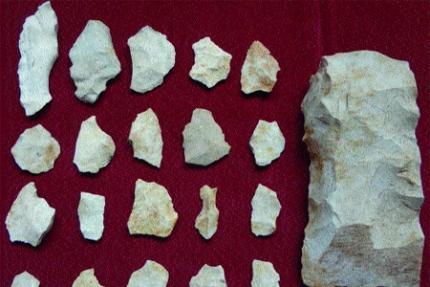 Prehistoric tools found on the bank of river Jonk in east Chhattisgarh.
In a significant discovery, archaeologists have found a huge flake tool dating back to the Stone Age period (around two lakh years old) on the bank of river Jonk in east Chhattisgarh. The tool, measuring around 20 cm long and 10 cm wide, is said to be the largest flake of lower-Paleolithic period, retrieved in Chhattisgarh till date.
"We have found the largest flake tool of Stone Age period at Sapos under Pithora block in east Chhattisgarh district of Mahasamund during our survey of Jonk river valley," archaeologists Shivanand Bajpayee and Atul Kumar Pradhan, who have jointly conducted exploration in a stretch of 120 km along the banks of river Jonk recently, told this newspaper on Monday. Flake tools were either made by flaking off small particles of flint or by breaking of a large piece.
Besides this, the exploration has also yielded, among others, a large hand-axe. "The interesting feature of the exploration at Sapos was the discovery of artefacts fossilized with some bone implements which is set to throw light on the then geo-environment of the prehistoric site," they revealed.
Besides, large number of Middle Paelolithic, Upper Paleolithic and Mesolithic tools were also found.
Interestingly, the survey in Sapos has yielded antiquities dating from lower-Paleolithic to early historic period (5th century AD) without any break-up, indicating a continuous cultural sequence of the site.
"Our department has completed survey of Jonk river valley. We now plan to explore banks of other small rivers in the state," an official said.