Chassahowitzka (USA): a spring cleanup yields cornucopia of history a
Chassahowitzka (USA): a spring cleanup yields cornucopia of history a
PART.2
It wasn't always clear what was worth a second look. For example, the bowl didn't look like anything special when it was spotted. "Divers first thought it was a coconut, because it was upside down," he said.
AD 100-1500: Pasco Plain pottery appears in the Woodland through Mississippian periods. This one is the only known fully intact Pasco Plain bowl to be recovered in Florida. The Woodland period is characterized by a mixed subsistence pattern consisting of hunting, fishing and collecting wild resources. Mississippian period subsistence consisted largely of estuarine fish and shellfish. Artifacts from both periods include pottery, stone tools and bone tools.
But the coconut turned out to be the bottom of a bowl, stained black by years of exposure to tannins in the water. It proved to be a 2,000-year-old, intact ceramic bowl with an earthen brown interior -- in good condition. "That's a big surprise," he said. "They're extraordinarily rare."
The discovery of fragments of a 17th century plate -- a Spanish ceramic -- also surprised the investigators, given that Citrus County is far from the nearest Spanish colonial settlement.
"I'm guessing that it was probably either intentionally dumped there or accidentally dropped in some sort of a trade route with the Native Americans." A more remote possibility is that a Spanish explorer may have visited the area and traded it to Native Americans there, he said.
The plate, which would have been nearly 14 inches in diameter when it was intact, "has an exquisite, painted decoration on the surface of it." Years under water had stained blue its original vibrant colors, he said.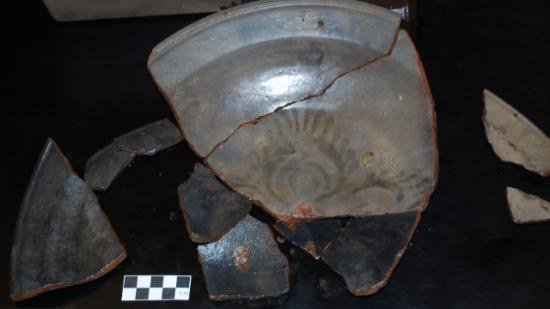 1600s Spanish Majolica plate, a ceramic type that first arrived in Florida with Juan Ponce de León in 1513.
Arbuthnot said a shard of brushed pottery dated to the 1700s and showed that the Seminole Indians were connected to the spring.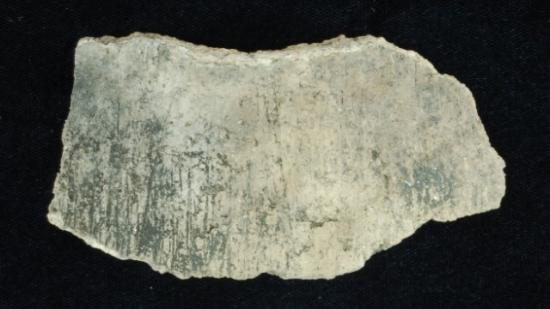 1700s: Chattahoochee Brushed pottery, a ceramic type used by the Seminoles.
The antler was probably used by Native Americans to help fashion stone tools, he said.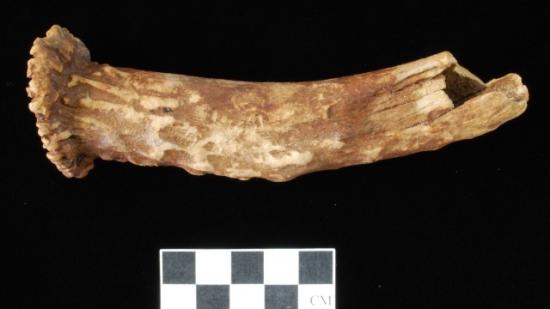 8000-500 BC: This deer antler was likely a billet used to manufacture stone tools.
The cap gun -- a Hubley Long Barrel Texan Jr. from the mid-1900s -- was made when gun manufacturers were transitioning from cast-iron to die-cast cap guns and, like all Hubley toys, it was hand-painted.
A mid-20th century Hubley Long Barrel Texan Jr. cap gun. This artifact represents a transition in toy gun manufacturing from pure cast-iron to die-cast cap guns. The Hubley Manufacturing Co. was founded in Lancaster, Pennsylvania, in 1894, and produced cast-iron toys, doorstops, bookends and other objects. All Hubley toys were hand-painted and are now collectors' items.
That there would be finds under the surface was not a surprise. "We know from past experiences that there's generally a treasure trove of artifacts to be found" in the muck around springs, said Arbuthnot, whose underwater work includes an expedition to the Titanic in 2005. "It was pretty obvious from the start that this was going to be a hot spot."
But it was also full of plain, old-fashioned, modern trash -- Budweiser bottles, old car parts. Anything younger than 50 years does not meet Florida's definition of an artifact and was not saved.
The salvage part of the cleanup cost Florida taxpayers $180,000. "What that paid for was having a certified marine archeologist on the job when that dredging was happening," Rhinesmith said.
That meant the cleanup project didn't have to stop every time an artifact was found, which sped its completion. Time was an important factor, he said, because the work had to be completed between May 1 and September 30, when the region's water temperatures begin to drop and West Indian manatees -- a federally protected species -- seek out the warmer waters of the spring, he said.
Because the finds were made on state-owned land, they belong to Florida. Some of the finds are to be displayed at the Old Courthouse Heritage Museum in Inverness. For now, they're neatly labeled on racks in a laboratory in Gainesville -- a cornucopia of history.