Philip Ross
Source - http://www.ibtimes.com/500-year-old-clothing-found-ming-dynasty-tomb-reveals-flair-chinas-imperial-past-1743269?
The Ming Tombs 50 kilometers (31 miles) north of Beijing in China are a group of imperial mausoleums built by the Chinese Ming dynasty emperors, who ruled China from 1368 to 1644. Creative Commons
Several pieces of elaborate clothing recovered from a centuries-old Chinese tomb show the country's ancient elite entered the afterlife looking their best. Among the artifacts pulled from the Ming Dynasty-era burial chamber were two coffins containing the accouterments of "Lady Xu, deceased mother of the Wang family" and her husband, according to an emblem on Lady Xu's coffin, Live Science reported. Archeologists discovered an undershirt, several patterned skirts and silk shoes inside Lady Xu's casket, among other remarkably well-preserved garments.
The husband's coffin contained several gowns and a pillow sheet. Many of the pieces pulled from the burial chamber included intricate designs made from gold thread. "The fabric is woven with flowers, insects and miscellaneous treasure patterns," archeologists from Taizhou Municipal Museum reported in an article published in the journal Chinese Cultural Relics, according to Live Science. "The train of the skirt is woven in a full circle pattern of gold thread. … The shoe uppers are made of plain silk, and the toes are embroidered with patterns of flowers, ancient coins, square knots and chime stones."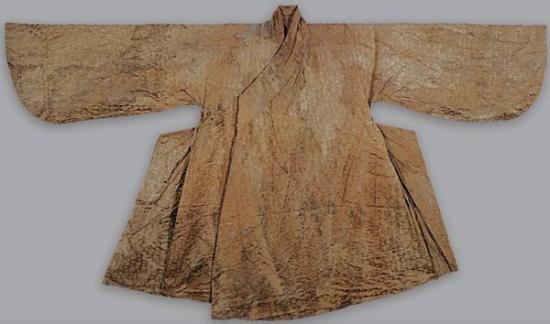 Credit: Photo courtesy Chinese Cultural Relics
Only a few bones from the deceased were recovered from the coffins. Archeologists attributed the clothes' notable preservation to a layer of slurry, or sealant, used to enclose them.
The Ming-era tomb was unearthed in July 2008 on the coast of the East China Sea in the Senson village of Taizhou City. While the exact date of the tomb is unknown, archeologists date it from 1521 to 1567, based on the artifacts and design.
The Ming Dynasty ruled China for nearly 300 years, from 1368 to 1644. The dynasty helped define China as a global superpower and ushered in a "period of cultural restoration and expansion," according to the Metropolitan Museum of Art. One of the dynasty's most noteworthy contributions to China's history included an 80-year refurbishing of the Great Wall. Under Ming rule, the wall was retrofitted with watchtowers, barracks and storehouses, and its walls were reinforced with granite and limestone,History reported.