Source - http://www.hurriyetdailynews.com/catalhoyuk-excavations-reveal-gender-equality-in-ancient-settled-life.aspx?pageID=238&nid=72411&NewsCatID=375
Through analysis of wall paintings, sculptures, and burials, excavators at Çatalhöyük aim to understand more about the ancient site's social structure and daily life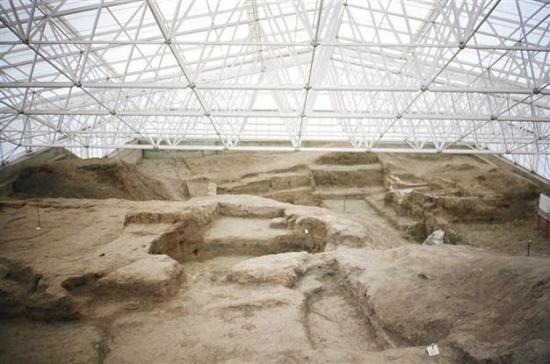 Professor Ian Hodder says Çatalhöyük's long history makes it particularly important in its field, and it showcases the earliest example of settled life outside of the Middle East in Çatalhöyük.
Çatalhöyük, a Neolithic settlement included in the 2012 UNESCO World Heritage list, has attracted thousands of academics from 22 countries to its archaeological works, set to be finished in 2018. The latest headline discoveries at the site indicate that Çatalhöyük was a place of relative gender equality, according to Stanford University Professor Ian Hodder, who is directing the excavations.

"Thanks to modern scientific techniques, we have seen that women and men were eating very similar foods, lived similar lives and worked in similar works. The same social stature was given to both men and women. We have learned that men and women were equally approached," Hodder said.

"People lived with the principle of equality in Çatalhöyük, especially considering the hierarchy that appeared in other settlements in the Middle East. This makes Çatalhöyük different. There was no leader, government or administrative building; men and women were equal," he added.
The site of Çatalhöyük was first discovered in 1958 by James Mellaart, and the first excavations were carried out during four seasons between 1961 and 1965. In 1993, a new curtain was unveiled in the ancient settlement. Following a surface survey, excavations in the north and south of the site have been continuing since 1995, and works have been carried out there ever since. Currently, a team of 160 people is working at Çatalhöyük, of which one in four is Turkish.

Hodder said Çatalhöyük's 9,000-year history and large area made it particularly important in its field, noting that it showcased the earliest example of settled life outside of the Middle East.

"It was always thought that the settled [life] was only in the Middle East, Iraq, Mesopotamia and Syria. But these excavations have revealed that farming and settled life existed in the Central Anatolia, too," he said. 

The excavation leader also said archaeologists had been able to glean fresh information about nutrition, social and business relations in Çatalhöyük with new scientific techniques. 
Discoveries about the social structure

The team has also made important discoveries about social structure through burials at the site. "We have also seen that people who were buried under houses were not biologically relatives or members of the same family. They lived as a family but their natural parents are not the same. Those who were born in Çatalhöyük did not live with their biological parents but with others," Hodder said.
Researchers have also been studying the connections between wall paintings, sculptures and tombs, which allow researchers to develop a better understanding of daily life in the settlement. 

"We think that artworks were made to get in touch with the dead or to protect them," Hodder said, stressing that Çatalhöyük's artwork, like the many wall paintings discovered in houses, was very rich in terms of symbolism. "Another reason why Çatalhöyük is very important is that all wall paintings and objects were protected very well. When you visit Çatalhöyük and go to these houses, you can see both people and belongings of these people. It gives you the impression that your ancestors are still living with you," he added. 

With permission from the Culture and Tourism Ministry, the current team will continue six-month excavations in the 2015-2016 season and announce their final data in the 2017-2018 season.

Hodder said one of the major remaining goals for his team is to address the question of how the settlement Çatalhöyük first began. "We don't have any idea about the first houses, which were found in the deepest layer. We want to learn why people came together and formed Çatalhöyük," he said. 

Hodder also noted that Çatalhöyük has become more popular among tourists since its inclusion in the UNESCO list. Excavating the site is an arduous process due to need to protect its adobe buildings, and it is often difficult for archaeological sites to find long-term sponsors, he explained. "Archaeology is about processing very slowly and requires great patience," Hodder said. "Yapı Kredi is taking a risk here, but this risk turned into success when Çatalhöyük entered the UNESCO World Heritage List."