Catacombs of Priscilla (Vatican): ancient frescoes reignite debate over women priests
Catacombs of Priscilla (Vatican): ancient frescoes reignite debate over women priests
Source - http://www.archaiologia.gr/en/
The Vatican has unveiled newly restored frescoes in the Catacombs of Priscilla, after a five-year project that included laser technology to clean some of the frescoes and a new museum to house restored marble fragments of sarcophagi. Some of the frescoes, interpreted by proponents of the women's ordination movement as evidence for women priests in Early Christianity, added to say frescoes in the catacombs prove there were women priests in early Christianity. The Vatican says such a reading of the frescoes is pure "fable, a legend".
The labyrinthine Catacombs of Priscilla are on the Via Salaria, in Rome. The cemetery complex stretching for miles under northern Rome is known as "regina catacumbarum – the queen of the catacombs" because of the great number of martyrs buried within it and a tiny, delicate fresco of the Madonna nursing Jesus dating from around AD230-240, the earliest known image of the Madonna and child.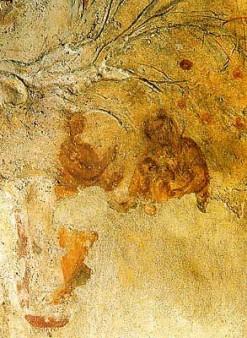 The fresco of the Madonna nursing Jesus dating from around AD230-240
The controversy about the existence of female priests in early Christianity is based on two particular scenes of the catacombs' frescoes: the first one, in a room called the "Cubiculum of the Veiled Woman," shows a woman with her hands up in the position used by priests for public worship.
Fresco in The Cubiculum of the Veiled Woman
The other fresco, in the "Greek Chapel," shows a group of women celebrating a banquet.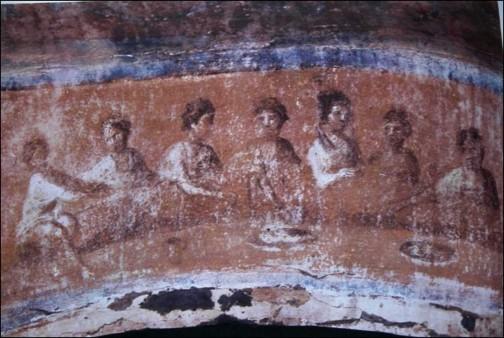 The fresco in the central arch at the back of the Greek Chapel shows a banquet
The Association of Roman Catholic Women Priests, which includes women who have been excommunicated by the Vatican for participating in purported ordination ceremonies, say these images prove that there were female priests in Early Christianity. Moreover, the catacombs' official guide says that in the fresco of the Greek Chapel there is a clear reference to the banquet of the holy eucharist. The superintendent of the Vatican's sacred archaeology commission, Fabrizio Bisconti, however, argues that it is a funeral banquet, where women were present but they did not celebrate mass. As for the woman with the outstretched arms, he says it is just a woman praying.
As the Priscilla Catacombs are featured by Google Maps, in a first-time venture mixing antiquity and modern high technology, art lovers and the curious around the world can join the debate. Giorgia Abeltino, head of public policy at Google Italy, said special instruments and smaller cameras were developed for the virtual tour project, which is similar to Google's street view except that it explores the bowels of ancient Rome.