Carrickfergus Castle (Ulster): prehistoric flints, board games and crockery uncovered as dig reveals 800 years of history
Carrickfergus Castle (Ulster): prehistoric flints, board games and crockery uncovered as dig reveals 800 years of history
Rebecca Black
Source - http://www.belfasttelegraph.co.uk/news/local-national/northern-ireland/carrickfergus-castle-secrets-finally-unearthed-prehistoric-flints-board-games-and-crockery-uncovered-as-dig-reveals-800-years-of-history-30042246.html
Carrickfergus Castle where artefacts dating back to the 13th Century have been found
From prehistoric flints, slate board games, crockery used by Arthur Chichester and evidence that dogs were eaten – a new archaeological dig has brought 800 years of history at Carrickfergus Castle to life.
The picturesque castle on the shores of Belfast Lough is the best preserved Anglo-Norman fortification in Ireland and dates back to 1177.
It was occupied until 1928 when the Ministry of Defence handed the castle over to the then Northern Ireland Parliament and has been a tourist attraction ever since.
The new dig, led by Queen's University archaeologist Ruairi O Baoill and funded by the Northern Ireland Environment Agency, is uncovering the reality of life behind the walls including imports from across Europe, painting a very cosmopolitan town in the medieval era.
Excavations started three weeks ago and are, for the first, time probing the oldest section of the castle – the original great hall – where it's first occupant, the Anglo-Norman knight John De Courcy, would have dined.
The Belfast Telegraph was yesterday given exclusive access to the dig during which Mr O Baoill explained he is sure the hall was the original inner keep because of the position of the windows.
Among the artefacts found were shards of a beautifully decorated glazed bowl thought to date to the 12th century.
Mr O Baoill said he believes it to be a type of pottery called Saintonge which would have been imported from western France.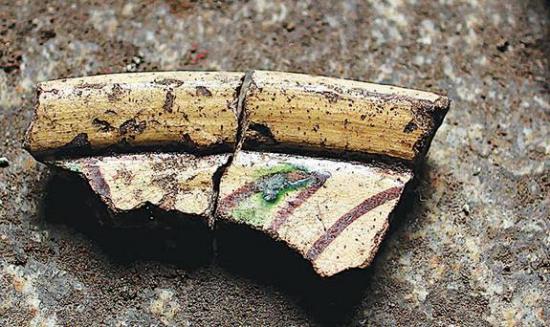 A piece of French pottery which would have been imported in the 13th Century
A button was also found in this section and is thought could be from a soldier's uniform stationed in the Victorian garrison, which was built over the original medieval keep.
Outside the inner ward of the castle, a second dig is taking place on a site which dates back to the 14th century.
The oldest map of Carrickfergus from 1560
The archaeologists have been excited to discover pieces of pottery that originated in north Devon, which is also where Arthur Chichester – the man who is credited with the founding and expansion of Belfast – originally hailed from.
Mr O Baoill said while most associate Chichester with Belfast, he lived in Carrickfergus Castle at one point.
"Finding pottery from north Devon here is very exciting because we know Chichester came from Barnstaple in Devon. This is very high quality tableware, it only would have been the best for Chichester's table."
Among some of the other finds are a Victorian coin, clay pipes from the 15th century and slate counters which would have been used for games, as well as animal bones which show what occupants were eating.
These include cow and sheep remains, but also dog bones indicating that our canine friends may have been among the dinner fare.
Mr O Baoill said: "It's an exciting dig because we are finding out how people lived."
A slate counter dating back to the 17th Century used for playing games
"There are lots of documentary sources with information but through archaeology, we are touching what the people who used to live here touched, giving us a direct line to history," he added.
A coin from 1887
BACKGROUND
The rock on which Carrickfergus stands became most significant in 1177 when adventurer John de Courcy built the first castle as part of his settlement of Ulster. It survived a number of sieges and was famously the landing point of King William of Orange when he arrived in Ireland on June 14, 1690.