Cape Tsuzuraozaki (Japon): Experts bowled over by ancient urn found on bed of Lake Biwako
Cape Tsuzuraozaki (Japon): Experts bowled over by ancient urn found on bed of Lake Biwako
Jin Nishikawa
Source - http://www.asahi.com/ajw/articles/AJ201712270033.html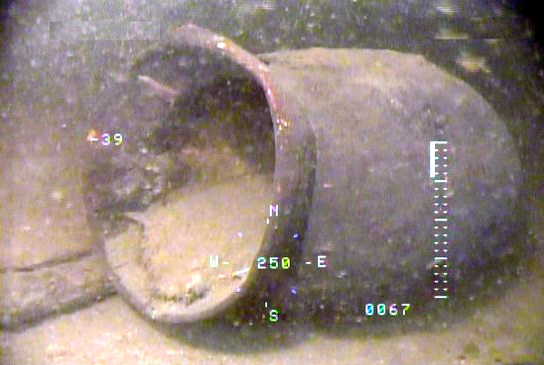 An ancient jar, photographed by an underwater robot, at the bottom of Lake Biwako in Shiga Prefecture (Provided by Ritsumeikan University)
An underwater robot has snapped photographs of a pottery urn probably dating from the seventh or eighth century that has been left almost intact at the bottom of Lake Biwako.
The jar, which was spotted 71.5 meters down on the bed of the lake, is 30-40 centimeters in height with a 20-cm opening, Ritsumeikan University announced Dec. 26.
It was found about 400 meters off Cape Tsuzuraozaki in the northern part of Japan's biggest freshwater lake in Shiga Prefecture on Dec. 14 by a team led by Kenichi Yano, professor of archaeology at the university.
It is believed to be a reddish brown Haji pottery urn made sometime between the Asuka Period (592-710) and Nara Period (710-784).
Several other pieces of pottery, including those believed to be grayish-black Sue pottery shallow bowls, were also found in six places near the urn.
They have probably not been covered by earth because the current is strong in that part of the lake bed. Because of the depth and the current, a robot was used instead of divers.
The urn was found in an underwater archaeological site called the Tsuzuraozaki Kotei Iseki.
Since 1924, many pottery pieces, mainly from between the Jomon Pottery Culture Period (c. 8000 B.C.-300 B.C.) and Heian Period (794-1185), have been found at the site at a depth between 10 and 70 meters, often caught in fishing nets.
It remains a mystery why so much pottery from such a wide time span have been found at this site.
Some speculate a settlement was submerged by a rise in the water level or the pots were sunk there in obscure rituals. Others sidestep romance and suggest it was just a dumping ground for used ceramics.