Rossella Lorenzi
Source - http://science.nbcnews.com/_news/2013/06/03/18724470-smuggling-ship-and-maybe-gold-found-off-south-carolina?lite&ocid=msnhp&pos=7
Archaeology pioneer and treasure hunter E. Lee Spence holds two portholes from the SS Ozama, found off the coast of South Carolina  -   E. Lee Spence
The wreck of a 19th-century steamer that smuggled guns, carried hundreds of thousands of dollars and possibly gold, has been discovered off the coast of South Carolina, U.S. explorers announced Sunday.
Found off Cape Romain in about 40 feet of water, the ship has been identified as the SS Ozama by underwater archaeology pioneer and treasure hunter Dr. E. Lee Spence.
 "We have positively identified the vessel through the engine type, length, width, type of decking and other construction features, as well as its location, which matches perfectly with historical accounts," Spence told Discovery News.
According to Spence, who discovered the Civil War submarine H.L. Hunley, the SS Georgiana and many other historically significant shipwrecks, the iron-hulled SS Ozamasteamer is "in surprisingly good condition with most of the ship relatively intact and sitting upright."
The 1028-ton, 126-foot, 5-inch-long vessel was born in Scotland in 1881 as the British steamer Craigallion and was used in 1884 to tow from New York to Central America one of the great dredges employed in the construction of the Panama Canal.
But it wrecked in the Bahamas a year later and was salvaged by an American wrecking steamer and renamed Ozama after the river in Santo Domingo, Dominican Republic -- one of the ship's regular ports of call.
"The vessel made a number trips to Panama and other ports in the Caribbean, sailing into turbulent times," Spence said.
"Her colorful history is packed with events such as a mutiny and extensive gun and money smuggling to Haiti," he added.
Indeed, a December 1888 account in the New York Times recorded that the Ozama was carrying "1,000 stands of arms, 3 Gatling guns and 500,000 cartridges to Cape Haytien."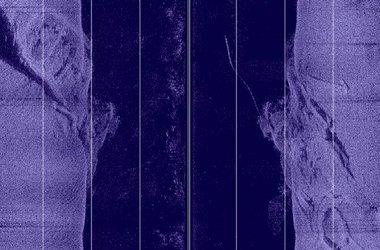 A sidescan sonar image reveals the SS Ozama in 40 feet of water  -  E. Lee Spence
The newspaper stated that the arms were "doubtless" for the use of Haitian president Hippolyte's soldiers. In poor health, he was facing a plot aimed at overthrowing his government.
In another article, the New York Times reported that the Ozama carried $300,000 in paper money to Haiti -- the first tranche of $1,000,000 meant to replace a previous issue of paper money.
On Nov. 23, 1894, the Ozama, bound from Philadelphia to Charleston, S.C., struck on Cape Romain shoals and stove a hole in the engine room compartment.
"The water quickly filled the fire rooms, rendering the engines useless. The steamer floated off the shoals soon after striking, and at 2 a.m. sank in six-and-half fathoms of water," the New York Times reported.
The crew took to the boats, while 11 men were reported missing, but probably landed on Romaine beach.
Declared a total wreck, the Ozama was then forgotten and lost.
"We don't know that anyone searched for her. Newspaper accounts said she was traveling in ballast, without cargo. This would have discouraged any attempts at salvage, which would have been both dangerous and expensive back then," Spence said.
He first found the ship in 1979 while doing a magnetometer survey.
"I had absolutely no idea it might be valuable until this year when I finally learned her identity during a research on other wrecks," Spence said.
Officially recognized as the "true and exclusive owner" of all of the wreckage, Spence believes the ship wasn't cargo free.
"Ships reporting themselves as traveling in ballast, often carried money and even other cargo. When you are smuggling, the smuggled cargo often isn't listed or is intentionally miss-listed," Spence said.
When the Ozama embarked on her last trip, the death of Haiti's president was considered imminent. The ship would have carried guns and funds for either supporting the existing regime, or for sustaining an insurrection. In this view, such funds would have needed to be in gold, not paper money.
"Whatever is still there, we have good reason to believe at least some of it will be intact, as I have already brought up some unbroken china," Spence said. His work is being funded by United Gold Explorations Ltd., a British company.
"As you might guess, I am hoping to find gold, and gold should not only be intact, it should still be shiny," he added.
According to John Christopher Fine, an admiralty attorney and an award-winning diver, the exacting research that was conducted leading to the discovery of Ozama's identity is especially important.
"The Spence library collection is an archive unmatched even in public collections," Fine, an expert on both treasure hunting and diving, told Discovery News.
 "While reports of the ship's cargo and passengers' effects make the Ozama wreck intriguing, it is also a virtual time piece of history that has not been disturbed by careless salvage," he added.
Spence and his team will thoroughly map the wreck and try to determine its structural integrity before digging into it.
"We will also be salvaging several of the earlier wooden hulled wrecks that I discovered nearby," Spence said.