Canada : Aboriginal pictographs digitally enhanced back to life
Canada : Aboriginal pictographs digitally enhanced back to life
Aboriginal pictographs digitally enhanced back to life
Digitally enhancing pictures of historic rock paintings a window into life hundreds of years ago
Source - http://www.cbc.ca/news/canada/calgary/story/2012/05/06/calgary-parks-canada-pictographs.html
VIDEO : http://www.cbc.ca/video/#/Shows/1221254309/ID=2231593984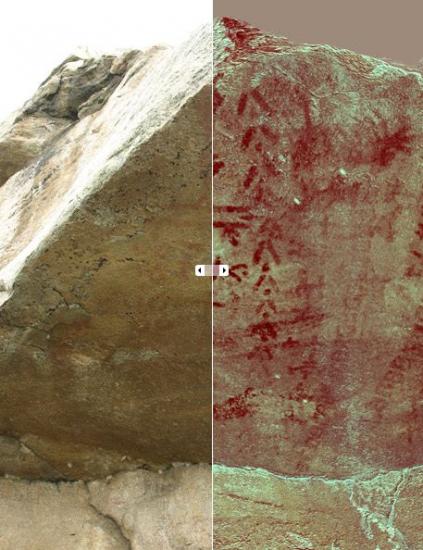 Piikani elder Harley Bastien thinks pictograph represents important journey
Aboriginal elders and Parks Canada archaeologists have just completed a two-year project to photograph and interpret several ancient pictograph sites along the foothills and mountains in Alberta and B.C.
Many of the fading ochre paintings are barely recognizable, but thanks to some new camera technology, those paintings are teaching a new generation about the distant past.
On an outcrop near Okotoks, Alta., some orange smudges on a rock wall are the only faded hint of an ancient aboriginal pictograph.
Painted hundreds, or thousands, of years ago its story has now re-emerged.
"That one on one connection to me is very powerful," said Harley Bastien from the Piikani First Nation.
He's one of four elders who worked with Parks Canada to record and understand several of these pictographs.
New technology helps preserve the past
Digitally enhanced images of those orange smudges at the Okotoks erratic site now show drawings of circles, arrows and people.
Bastien says it marks an important journey.
This erratic, a boulder moved by glacial action that differs from its surrounding, sits near Okotoks, Alta., and was one of the main sites of the project. (Parks Canada)
"I'd like to see the youth, especially the aboriginal youth, to have a real opportunity to have a look at these photographs because it's their legacy," he said.
Parks Canada archaeologists, including Brad Himour, used special camera and computer technology to create those enhanced images and a record of the past.
- A standard daylight photograph of pictographs on an erratic near Okotoks, Alta, is barely visible to the naked eye. (Brad Himour/Parks Canada)
- pictograph image digitally enhanced on an erratic near Okotoks, Alta., is now visible by using Dstretch software. (Brad Himour/Parks Canada)
"We are looking for a non-intrusive way to be able to record them for posterity," said Himour.
The elders say the paintings and the sites are sacred and the knowledge just as valuable.
- The pictograph on this erratic near Okotoks, Alta., has almost faded from sight. (Parks Canada)
- Once again, digital enhancements have brought this pictograph on an erratic near Okotoks, Alta., back to life. (Parks Canada)
- A daylight picture of a pictograph on the Cochrane Ranche site in Cochrane, Alta. (Parks Canada)
- A shield-bearing warrior figure emerges by digitally enhancing the images on a rock that sits on the historic Cochrane Ranche site in Cochrane, Alta. (Parks Canada