Byzantine 'flat-pack' church to be reconstructed in Oxford after spending 1,000 years on the seabed
Byzantine 'flat-pack' church to be reconstructed in Oxford after spending 1,000 years on the seabed
The 'Ikea-style' church, which dates to around 550 AD, will be put on display at the Ashmolean Museum
Nick Clark
Source - http://www.independent.co.uk/arts-entertainment/art/news/byzantine-flat-pack-church-to-be-reconstructed-in-oxford-after-spending-1000-years-on-the-seabed-a6732376.html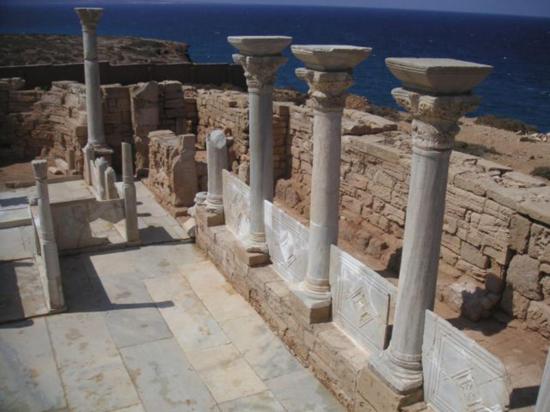 A Byzantine church ruin in Athrun in Libya similar to one that will feature at the Ashmolean exhibition Ashmolean Museum
Centuries before the Swedes started flat-packing their furniture, the Holy Roman Emperor Justinian had his own version, sending self-assembly churches to newly conquered parts of his empire.
Now one of the "Ikea-style" churches, which spent more than 1,000 years on a seabed after the ship carrying it sank, is to be reconstructed for the first time in Oxford.
The Byzantine church will be on display at the Ashmolean Museum of Art and Archaeology as part of the exhibition Storms, War and Shipwrecks: Treasures from the Sicilian Seas, opening in June.
Paul Roberts, co-curator of the exhibition, said: "Everything in the exhibition will be from under the sea. It's very different from what's been done before. All these different movements of people and goods have left their imprint on the seabed in a way you don't get on the land."
Among the most intriguing exhibits are the remains of the portable church, which dates to around 550 AD. The museum, which is attached to the University of Oxford, will erect it using up to six of its pillars and the early pulpit known as an "ambo".
No museum has attempted to reconstruct the pieces until now, and the Ashmolean director Alexander Sturgis said he hoped it would be easier than putting together flat-pack furniture.
From his base at Constantinople, Justinian sent out stone-carrying ships – known as naves lapidariae – carrying marble church interiors to sites in Italy and north Africa to fortify and regulate Christianity across his empire. There they would be installed inside the shell of a building put together with local material. "You show your power by planting churches," Dr Roberts said. "He sent out flat-pack, self-assembly churches – Ikea churches."
Remains of the completed buildings still survive in Ravenna in Italy, in Cyprus and Libya. Yet the ships were so heavy that some became unbalanced and capsized in stormy weather. It is unclear where the remains in the exhibition were heading.
Hundreds of the prefabricated marble elements of a church basilica were found in a shipwreck off the coast of Sicily in the 1960s by German archaeologist Gerhard Kapitan, and most of it has been kept in storage. Still more remains on the seabed. The exhibition will display other discoveries from the bottom of the sea off the cost of Sicily made by underwater archaeologists over the past 60 years.