Buttevant (Irlande): Archaeological finds in walled town date to medieval times
Buttevant (Irlande): Archaeological finds in walled town date to medieval times
Sean O'Riordan
Source - http://www.irishexaminer.com/ireland/archaeological-finds-in-walled-town-of-buttevant-date-to-medieval-times-359157.html
Archaeologists have made a number of discoveries in a Co Cork town — including the remains of a town wall, a cobbled street, and underground chamber all dating back to medieval times.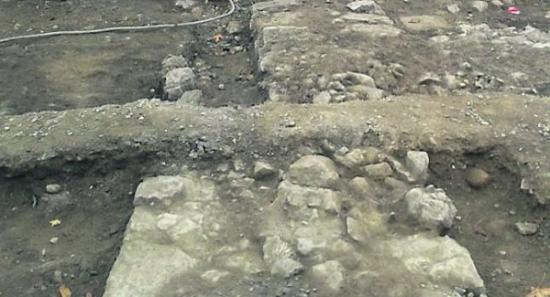 Archaeologist Ken Hanley described the "exciting discoveries" as yielding new information about the early development of Buttevant.
A team of archaeologists were called into the town as its main streets are being dug up for resurfacing work.
An archaeological impact assessment report (AIAR) was undertaken on behalf of the county council and highlighted the high likelihood of encountering buried archaeological remains in the walled town, which was founded around 1208.
"In the course of archaeological monitoring a masonry wall and associated street cobbling were identified at the upper end of the town. Ongoing archaeological excavation indicates that the wall represents the north wall of the medieval town," Mr Hanley said.
"A pier [upright support], at the exposed end of the wall, appears to be part of a gate arch (assumed to be the 'north gate' referred to in 1375). Leading south from this town wall is a broad swath of cobble stones that formed the street surface in medieval times."
Mr Hanley said they may also have come across evidence of earthen defences which were built before the town became walled.
Further south, outside the Convent of Mercy complex, archaeologists have uncovered a stone-built underground room, accessed to street level via set of stone steps. "This structure appears to be medieval in date. An extensive array of other features of archaeological potential have also been revealed and these are currently being investigated," Mr Hanley said. Medieval pottery and clay pipes from the 17th century have also been discovered.
Buttevant's early history was developed around the skills of crafts people and artisans. In 1234 David de Barry was granted permission to hold a weekly market and a yearly fair at his "Manor of Botavant". In 1317 a grant was released to the town "to enclose it with walls", although it is not know to what extent, if any, the town had been walled prior to this recorded grant.
Another grant, in 1375, makes reference to a "north gate". It was during the 16th century that Lombard's Castle on Richmond St was built and it is recorded that there had been several other small "castles" in Buttevant, although their age is unknown.
The town was sacked by English forces in 1569 and more devastatingly in 1691. Mr Hanley said it remained in a state of stagnation through much of the 18th century, and it was not until the actions of John Anderson (who acquired Buttevant Castle from Richard Barry) and later his son, James Caleb Anderson, that the fortunes of the town were revived. He said all the archaeological finds will be published in due course.
"Not only will Buttevant benefit from a newly enhanced streetscape, but the heretofore hidden history of Buttevant's town wall circuit and medieval street layout will be more fully understood," he added.
Vital street resurfacing is continuing as scheduled in other areas of Buttevant while archaeological investigations take place.