Butleigh (G-B):A first view of whole Roman mosaic after 1600-year wait
Butleigh (G-B):A first view of whole Roman mosaic after 1600-year wait
Shepton Mallet
Source - http://www.thisissomerset.co.uk/view-Roman-mosaic-1-600-year-wait/story-19756887-detail/story.html#axzz2e2BWnjjy
A Roman mosaic that has been hidden beneath a field in Butleigh has been revealed to the world for the first time in 1,600 years.
A team of archaeologists unearthed the mosaic last month, at a location in Butleigh.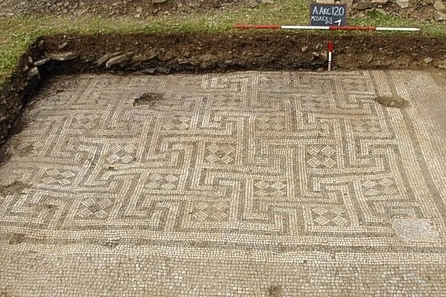 The dig was carried out by Paul Martin and his business partner Sam Driscoll, of Wiltshire-based Absolute Archaeology.
They have been working on the site on and off since 2005, when they used geophysical surveys to discover foundations to buildings and buried floors, as well as building materials, nails, pottery shards and Roman coins.
They had found a portion of the mosaic in a previous dig, and this year decided to find out how much of it had survived over the years.
In the process of the excavation, they also found Romano-British walls, a coin bearing the head of Flavius Julius Constans, who was born in around 320 AD and became Caesar in 333 AD, and a coin depicting Magnentius, who ruled until 353 AD.
But pride of the dig had to be the complete mosaic, seen here for the first time in over 1,000 years.
Ms Driscoll admitted they had been "relieved" to discover the complete mosaic, which is made of blue and white lias tiles, arranged in geometric shapes.
The mosaic is believed to have been created by the Lindinis Group, a school of mosaic makers who were based at Ilchester.
"This is the first complete mosaic we have found – and it was amazing to think that we were the first people to see it for over a thousand years," she said.
The plain border surrounding the geometric design of the mosaic suggests that furniture was intended to stand around the edge of the room, negating the need for elaborate design in areas that would not be on view.
The villa is believed to have taken up around two-thirds of the field they are working in, and would have been a huge complex, with bathing rooms, staff quarters and everything necessary to keep the owners in the lifestyle they had been accustomed to.
But quite who the villa belonged to remains a mystery – to date, the archaeologists have found nothing to indicate who may have lived there, although have found significant evidence that the villa was redeveloped over the years until its demise somewhere between 420-440AD.
The mosaic has now been covered over once again to protect it, with the same soil that has protected it for hundreds of years.
Absolute Archaeology are due to return to the site in 2015, and have described the excavation as a "lifetime investment".
"No-one knew that villa was there before we found it," Ms Driscoll said.
"This is a work of a lifetime for us."