Bushwood (USA): Colonial rebel's home may have been uncovered
Bushwood (USA): Colonial rebel's home may have been uncovered
Gerard held thousands of acres near Bushwood
Jason Babcock 
Source - http://www.somdnews.com/article/20130102/NEWS/701029798/1056/colonial-rebel-s-home-may-have-been-uncovered&template=southernMaryland
Staff photo by REID SILVERMAN Junior Karie Boyle, center, and Gideon Singer, both students of St. Mary's College of Maryland, take to the woods last month at the Foxwood Farm in Bushwood to help dig for the home of Thomas Gerard, owner of St. Clement's Manor, shortly after the Maryland Colony was founded in 1634.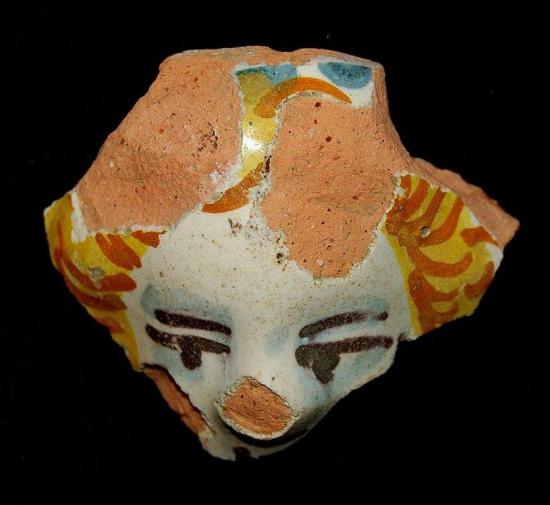 This figurine head of a clown found at the dig site could have been part of a salt holder. Its origin is unclear, but it denotes a wealthy family.
Students at St. Mary's College of Maryland think they may have found the home site of Thomas Gerard, who oversaw thousands of acres known as St. Clement's Manor when Maryland was still a colony.
Despite his land wealth and political influence, Gerard joined a brief rebellion against the Calvert family, who established the colony.
Now, the land where Gerard is thought to have lived is home to Levi and McCue, two American paint horses off Oscar Hayden Road, near Bushwood.
The archaeological group of the anthropological research methods class from St. Mary's College spent several Saturdays digging around the Foxwood Farm last fall.
The landowners, James and Gena Clifton, had suspicions 10 years ago there was a deeper history to the land.
They opened up their land and their home to the students while they worked.
The favorable soils and the history of the area indicated the site was most likely Gerard's home, said professor Julia King. "There is no question in my mind," she said.
Gerard was born in England in 1608 to a Catholic family, the students said during their final exam presentation in December. But Gerard married a Protestant and raised his children as Protestants. He came to Maryland in 1637, just three years after the landing of English settlers at St. Clement's Island and St. Mary's City, and was granted the sprawling St. Clement's Manor in 1639.
At that time, there were about 60 people living on that land. The entire population of St. Mary's at the time was almost 400, according to Regina Hammett's "History of St. Mary's County, Maryland 1634-1990."
St. Clement's Manor began as 1,030 acres, but Gerard enlarged it to 6,000 acres by 1641, according to the book, "Robert Cole's World, Agriculture and Society in Early Maryland," by Lois Green Carr, Russell R. Menard and Lorena S. Walsh.
By 1678, Gerard's heirs increased the size of the manor to 11,400 acres.
Gerard was a successful plantation owner and in that role, he was also conservator of the peace and a member of the Upper House of Maryland.
But Gerard supported Fendall's Rebellion in 1659. Josias Fendall, appointed governor by Philip Calvert, renounced the charter and rights of Lord Baltimore, Hammett wrote, and said the authority in Maryland should come from the King of England or the Assembly. Gerard sided with Fendall.
Gerard's "love/hate relationship with the Calvert family is legendary," King said.
"These are super Type-A personalities that are trying to make a fortune and part of that is to be great landowners," she said.
"The Fendall Rebellion has been seen as a kind of blip — a governor gone bad," King said. "It was more symptomatic of Lord Baltimore's struggle for sovereignty" in the early years of the colony.
The king's 1632 charter gave Lord Baltimore authority over the Maryland colony, "but he's constantly struggling to have that power. This site is important because of the struggle … there are always people trying to topple him," she said.
Lord Baltimore got the news of the Fendall revolt and appointed Philip Calvert as governor instead, and the rebellion was over as soon as it started, Hammett wrote.
After Calvert's authority was reasserted, Fendall and Gerard were banished from the Maryland colony. Both paid fines and were allowed back, the college students said. But Gerard could not vote or hold office in the colony ever again. He died in 1673 and was buried somewhere in St. Clement's Manor.
What motivated Gerard, already in a position of power and influence, to usurp Lord Baltimore?
Gerard was "a very ambitious person. He is a passionate person. He's not above biting the hand that feeds," King said. "A very enigmatic character."
More than 150 shovel tests were made at the Clifton's farmstead, turning up pieces of flint, tobacco pipes, ceramics and a cloth seal dated to 1646.
"What we've done is just the tip of the iceberg on this site," said junior Colin McNamara.
A curious item was also found — a broken tin glazed mold of a clown face. "We don't quite know what it is," said senior Mary Kate Mansius.
It could have been a salt holder, or a candleholder, King said. It's dated 1657, but there are other variations of where and when it came from. "This is actually an interesting mystery, and one of the students will pursue this next semester," she said.
At the Clifton's dig site, teaching assistant Mark Jaskolski said an excavation of the site would offer more clues if it was the home of Gerard.
"We're hopeful. It's so hard to tell with the shovel tests. I really do hope it's here," he said.
Excavation of the site would need permission and funding, King said. "We're going to keep a focus on this site."
"Both Jim and I are very open to having further archaeological excavations completed at our property, Foxwood Farm," said Gena Clifton in an email.