Bursa (Turquie): Excavations unearth basilica
Bursa (Turquie): Excavations unearth basilica
Source - http://www.hurriyetdailynews.com/excavations-unearth-basilica-in-bursa.aspx?pageID=238&nID=65838&NewsCatID=375
Bursa has a new claim to fame in terms of its historical richness following the discovery of a Roman-era basilica found along the city's walls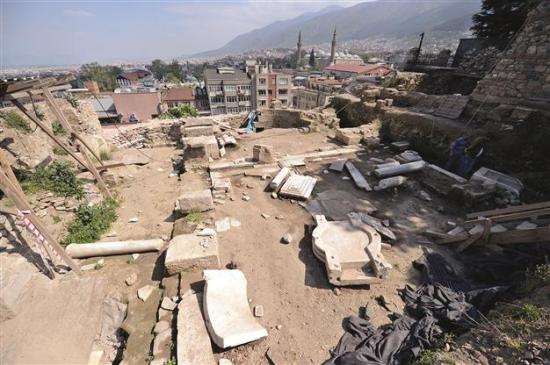 The basilica unearthed in Bursa served both as a court and a religious structure in the early Roman era. AA Photo
Excavations at a tower in the Tophane portion of Bursa's city walls have revealed a basilica from the early Roman era that could be one of the oldest structures ever discovered in the northwestern province.

Architect İbrahim Yılmaz, who has been conducting the restoration projects on Bursa's city walls, said the Tophane city walls restoration project included an area of 1,200 square meters from the north of the Saltanat Gate to the Kaplıca Gate. 

He said all restoration projects in the area had been approved by the Bursa Cultural and Natural Heritage Preservation Board and that the restoration had been divided into two phases because of long distances. The first phase includes two big towers, A and B. 

Yılmaz said that as part of the restorations of the towers, the A tower had been excavated. "During these excavations works, we have found the remains of some walls in the lower levels of the tower. 

We tought that the remains were from an early Roman-era basilica and decided to deepen the excavations considering that the remains would shed light on Bursa's history of architecture. This is why a single-floor structure on the remains has been expropriated and ruined. When the excavations ended, a rectangular basilica structure with marble columns and wall decorations was revealed. This basilica served both as a court and a religious structure in the early Roman era. It is possibly the oldest structure in the city after the walls."
Technical features of the basilica 

Speaking about the technical features of the basilica, Yılmaz said: "There is a round apse [the place for religious ceremonies] and a window bay in front of it. In the middle of the basilica is a nave and two rooms on its right and left sides. One of these rooms is in the northeast of the apse and the other is in its southeast. 

The name of the first room is the diokonikon, which is home to holy objects, and the other is the prosthesis, where gifts are accepted and kept. In the northwest of the apse there is a burial chamber, in which there is the skeleton of a priest." 

Yılmaz said the ongoing excavations in the basilica aimed to unearth its entrance, namely the narthex and the atrium.

"The emergence of the basilica, which is very unique and had not been known so 
far, will increase the position of Bursa in the history of culture. Restoration works that will 
be carried out after excavations will boost the city's tourism," he said. 

Yılmaz said cleaning works in the B Tower had revealed the remains of a casemate, an underground armored structure. "It is understood that the B Tower was the first tower protecting the Bey Palace inside the walls. This tower has been restored on its remains using traditional materials and methods, and regained its glory. Although the tower is two-storied, one of its floors was rebuilt and the other floor was organized as a view terrace," Yılmaz said.