Burnt City /Shahr-e Sukhteh (Iran) : New burials discovered
Burnt City /Shahr-e Sukhteh (Iran) : New burials discovered
Source - http://www.payvand.com/news/15/jan/1004.html?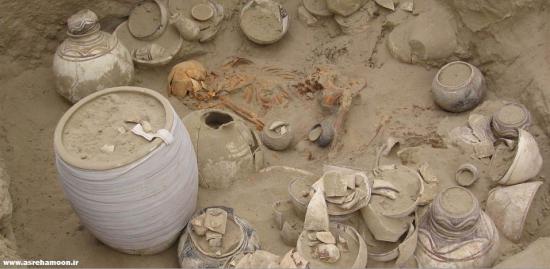 File phoeo: A skeleton surrounded with artifacts in a grave at the cemetery of the Burnt City.
A team of archaeologists has discovered new burials in the 5200-year-old Burnt City (Shahr-e Sukhteh) in southeastern Iran.
During a new season of excavation at the cemetery of the ancient site, the team has unearthed a skeleton of woman, who died between the ages of 28 and 30, buried with her child and a marble goblet, the director of the team, Seyyed Mansur Sajjadi, said in press release on Monday.
Such a burial has never been seen during previous seasons of excavation in the Burnt City, Sajjadi said.
The archaeologists have also unearthed skeleton of man between 26 and 32 who lacks one of his molars.
Based on studies on his other teeth, the archaeologists surmise that the tooth have been pulled out due to infection before his death.
Accordingly, they say that people of the Burnt City had used the skills to pull out infected teeth.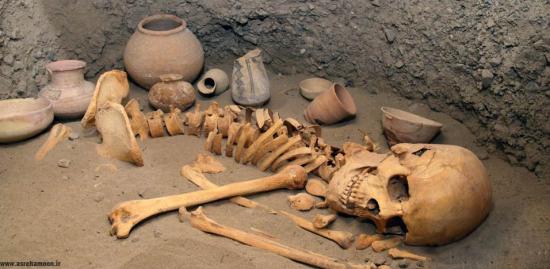 Another highlight of this season of excavation is a skeleton of baby wrapped in a wool hide. The baby, who was between 18 and 24 month, wore a string of bone beads around its neck.
The archaeologists have also found bronze mirrors, kohl pots, and colorful dishes buried with women between 20 and 28.
The team plans to reconstruct the ancient society of the Burnt City by excavations, collecting artifacts, workshop and laboratorial studies.
The Burnt City was one of rare ancient settlements, in which women were in charge of the financial affairs of their families.
Located 57 kilometers from the town of Zabol in Sistan-Baluchestan Province, the Burnt City was the largest urban settlement in the eastern half of the Iranian Plateau.
Covering an area of 151 hectares, the Burnt City is composed of five settlements in its northeastern part, an industrial area, some monumental structures and a cemetery, which are located beside together in shape of consecutive mounds.
A 10-centimeter ruler with an accuracy of half a millimeter, an artificial eyeball, an earthenware bowl bearing the world's oldest example of animation and many other artifacts have been discovered among the ruins of the city in the course of the many seasons of archaeological excavations conducted by Iranian teams.
The Burnt City was registered on UNESCO's World Heritage List in June 2014.