Laura C.
Source - http://www.gloucestershireecho.co.uk/Skeletons-discovered-Moreton-Marsh-nature-reserve/story-21035435-detail/story.html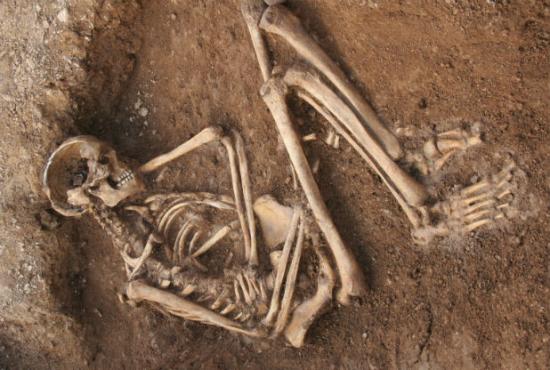 Skeletons, which are believed to have dated back to the Iron Age, have been discovered in a Gloucestershire nature reserve.
Archaeological excavations at Gloucestershire Wildlife Trusts' Greystones Farm nature reserve have been identified as remains dating from 1200 to 550 BCE.
The discoveries, including two human burials, were found on the outskirts of Bourton-on-the-Water.
It is home to Salmonsbury Camp, a scheduled ancient monument and the only lowland example of a large multivallate hill fort in England.
The discovery earlier this month was part of work by Cotswold Archaeology who excavated an area of the farmyard in preparation for a new farm building.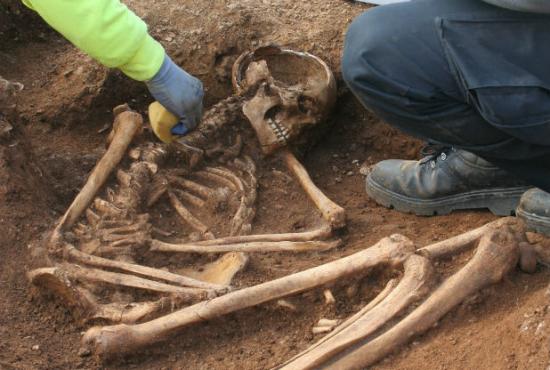 The skeletons found at Gloucestershire Wildlife Trusts' Greystones Farm
The archaeological works are the first major excavations at Salmonsbury Camp since the 1930s when a late Iron Age date for the hill fort was established.
Along with the skeletons, the work revealed a possible roundhouse and a series of large pits that had probably been used to store grain. Crouched human burials had been deliberately placed in two of the pits when they were finally obsolete, a tradition that is commonly encountered throughout the Iron Age.
The pottery recovered suggests it dates to the middle Iron Age, and predates the construction of the hill fort by at least 100 years.
Tom Beasley-Suffolk, reserves manager for the Cotswolds, said: "It has been fascinating to see what were slightly dark areas of ground be excavated to reveal pot and human remains that probably last saw the light of day 2,500 years ago."
The finds will be cleaned up and analysed by Cotswold Archaeology, to build a picture about our Iron Age ancestors at Greystones Farm nature reserve.
It is the trust's only working farm in the county and is managed because of its wildlife and historical importance.